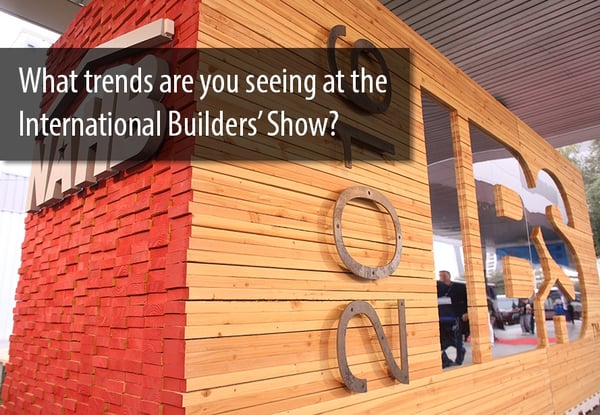 The International Builders' Show (IBS) has been a whirlwind of excitement the past few days. Heading into the show, I was wondering how architects, builders, and manufacturers are working together to address certain issues related to reducing waste in construction methods, producing more efficient homes, and incorporating the lifestyle changes of clients. At the same time, I was hoping to gain some insight as to how builders are dealing with labor shortages in the industry.
Here are a few of the trends:
Single-level living
Across the board, new home designs are moving to accommodate single-level floorplans. That isn't to say that homes are limited to one floor; however, all of the primary living spaces (kitchen, bedrooms, bathrooms, dining room) are being placed on a single level. Additional spaces for guest rooms and entertainment are being reserved for other levels, either above or below. These tighter designs lend themselves to creative uses of space without limiting the comfort or functionality of the home. Another important factor is the ability for people to remain in their home as they age.
Smaller lot sizes + smaller homes
Architects and builders seem to be getting on board with the needs and wants of home owners from different generations -- from boomers looking to downsize and millennials concerned with energy costs and environmental responsibilities. Lots -- and the homes going on those lots -- are being reduced to maximize space and efficiency. This trend is not only influenced by the home owner, but also by zoning regulations for urban growth.
Building systems are hot
Be it concrete, modular, log, panel, or timber frame, the use of manufactured systems built off-site (all or a large portion), then delivered and erected on the lot, is on the rise. The approach is attractive to builders because the manufacturer is responsible for adhering to local codes. Furthermore, less labor is used on-site, and the finished product is built in less time, which certainly makes for a satisfied client when the final bill is presented. Additionally, these systems are at the forefront of implementing high-end components and efficiencies, reducing maintenance and utility costs in the process.
All of these forward-thinking trends in design and construction techniques highlight a shift in the consumer. Specifically, these trends reflect that home owners today are more conscious of ways to maximize living spaces while lowering ongoing costs and respecting the environment. Builders, conversely, are able to produce more homes using less labor, which results in higher profits.
What trends are you seeing at the show? Feel free to share them in the comments below.