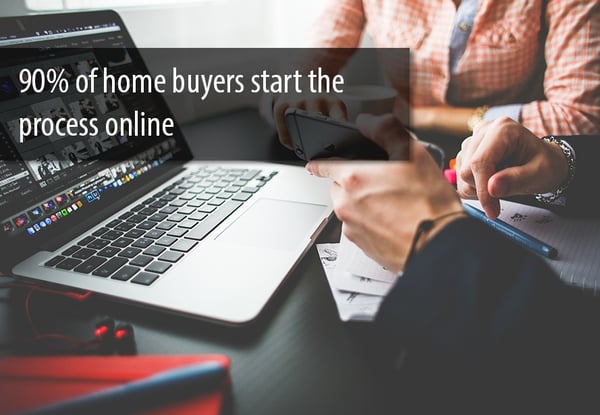 The Search Begins...
We already know that most buyers look online when they search for a new home. In fact, 90% of them according to The Digital House Hunt, a study by the National Association of REALTORS and Google. But what exactly are home buyers looking for? How can you help them find your website when they're searching for the products or services you offer? What can you do so they stay on your website longer?
If you haven't already read this post on an effective website, it's a good starting point. Additionally, there are three things we believe are important for builders and remodelers who want to be contacted by buyers who search for homes online.
What do you look for when you go online?
If you think of the websites you use regularly as trusted resources, try to imagine how you can replicate the factors you like with your own website. Is it because you like the layout and how it looks? Or how they answer your questions? Or maybe you can tell they really understand your challenges? Perhaps they use video really well to explain what they do.
And if there are websites which frustrate you, identify why that is and be sure to avoid those things.
Here are three ways you can help buyers who are searching for homes online like what they see when they get to your website:
1. A Visually Pleasing & Easy to Navigate Website
Generation Y (the Millennials) comprises the largest share of home buyers at 32%. Given that millennials are digital natives, they adapt to new technology quickly and they expect it to work well. Millennials want to buy from organizations that know how to do business in the modern way, the digital way.
For starters, they expect any website today to be aesthetically pleasing, especially for something like a house, with great photography. A good example of this is John Kraemer & Sons. Their website is very visual and the photography is gorgeous.
Additionally, to hold any visitor's attention, websites need to be mobile responsive (i.e., it can be viewed on any device without having to resize it). In fact, confirming the importance of mobile friendly, that same Google and National Association of REALTORS study reported that 36% of new home buyers shop for homes from a mobile device while watching TV.
2. Provide the Information Prospects Want & Need
If you can help answer buyers' questions, before they've ever contacted you directly, you'll help establish trust and credibility, and substantially increase your odds that qualified buyers will contact you when they're ready to move to the next step.
Understanding what information to include, and what types of blog posts to create, is not always obvious. This post breaks down the different types of content we recommend, in order to help your prospects and keep things interesting for them.
Marcus Sheridan from The Sales Lion talks about 5 types of pillar content posts every business should include, which are:
Cost - if you can't say exactly how much something costs, talk about factors that affect the price
Problems - what are the problems typically encountered when building or remodeling and how do you help your clients avoid them
Versus - talk about the options your prospects are probably thinking about (i.e., tiled shower floor vs. shower tray, stick build vs. modular home)
Reviews - be sure to include case studies and testimonials from previous clients and projects
Best - who in your market is the best at what they do? If someone was not going to work with you, who would you recommend and why?
Also, as a home builder or remodeler, joining your local builder's association will help you stay abreast of trend information in terms of what home buyers are looking for when they search for a home, or want to remodel a home. That knowledge gives you insight into how to market yourself, decide which projects you might want to showcase on your website and social media channels, and understand what topics home buyers and remodelers really care about.
3. Demonstrate Value
We've all heard the line about our home being our biggest investment. While this may be true, any of us who have purchased a home also believe our home is probably our biggest expense. Even people who build multi-million dollar homes, still want value for the money they're spending.
As an experienced builder and remodeler, your expertise is your value. People choose their builder because they believe they can trust you to lead them through a process which can be scary and stressful. Your value might be via avoiding expensive mistakes, or through keeping the project on time and within budget, or perhaps by recommending solutions which are more expensive upfront, but reduce the long-term operating costs of the home.
Through your website's content, it's important to convey that you are a trusted advisor with expertise that your prospect will benefit from in choosing you as their partner to build or remodel their home.
---
CONCLUSION:
Home buyers look for a number of things when searching for a home, online or offline. But in today's digital world, more often than not, that search starts online. If you can achieve these three points with your website and its content, you will be well positioned to attract visitors, convert them to qualified leads and nurture them into clients.
---