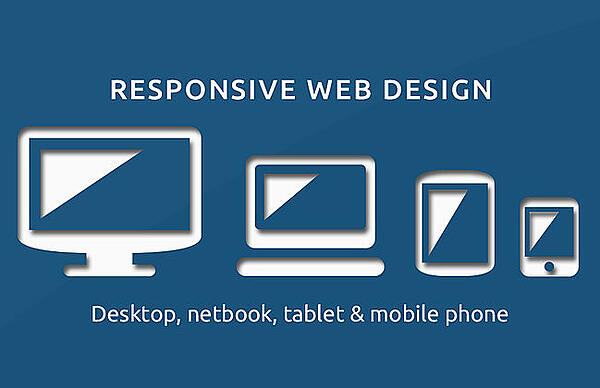 Your small business has a website, right? But did you know that just having a website isn't enough? Aside from regularly populating that site with great content, you also need to assure the website is usable across multiple devices – desktops, tablets and phones.
These days, very few people use the internet exclusively from a desktop. In fact, 63% of adult cell owners use their phones to go online. And 34% of cell internet users go online mostly using their phones, and not some other device like a desktop or laptop.
To help your business address a growing mobile market, we have a 3 Minute Marketing Roundup that's all about mobile websites – more specifically, websites built using responsive design. In under three minutes, you'll understand exactly what responsive design is and why it matters.
What is mobile responsive design?
Basically, a website built using mobile responsive design is a site that works great no matter what device you're using – desktop, tablet or phone. A responsive website dynamically adapts, or responds, to whatever screen size you're using in order to serve up optimized content.
For instance, when you view a mobile responsive site on a phone, you don't have to zoom in just to read the text. Or, you don't have to pinch-zoom, lateral scroll and pinch-zoom some more just to click a navigation link.
While there are many possible mobile responsive adaptations, here are a few of the most common:
Changing the font size so it's easier to read on smaller devices.
Adjusting the position of navigation to account for differences in how people navigate websites on desktop and mobile.
Changing links and buttons to be more touch friendly.
Dynamically resizing or reconfiguring columns, photos, videos and other elements so they display better across different devices.
Here's a video of how responsive design adapts to a changing screen size:
You can go here to test this responsive website for yourself.
Why should I care about responsive design?
If you care about (a) getting found online and (b) keeping visitors on your site, then you should care about responsive design. Here's how a responsive website supports these two important objectives:
Keeping Visitors on Your Site
These days, it's against your business's best interests to have a website that's difficult to use on a mobile device. In fact, your business could actually be losing site visitors just by not having a mobile-friendly site. Responsive design will allow you to take a multi-device approach to your business website. This way, your site will be easy to use no matter what device your visitors happen to be on. When your website offers a great user experience and you're sharing engaging content, your visitors will be much more likely to stay on your site longer and view more pages.
Getting Found Online
When it comes to search, there's no bigger authority than Google. So take it from them – Google explicitly recommends using responsive web design. In fact, Google is placing such a high priority on mobile optimization that it has even started demoting sites within mobile rankings that provide a poor user experience to smart phone users. (You can read more about this on cnet's article Make websites mobile-friendly or face Google search wrath.)
In addition to gaining key Google ranking factors for mobile search, here are a few additional ways a responsive website can help your business get found online:
A responsive site uses a single URL for a piece of content (unlike a separate mobile site, which uses a distinct URL). This means it's easier for site visitors to share, interact with and link to your content.
A single URL for your content also helps Google's algorithms assign indexing properties for your content.
Links shared from a separate mobile domain (like m.domain.com) can dilute your domain and hurt organic search traffic. This is because links shared from separate mobile sites will not count as search link equity (aka "Google Juice") toward your primary site.
Conclusion
Now more then ever before, people expect sites to work beautifully across the device they happen to be using at any one moment. In most cases, a responsive website offers the best solution for assuring your website is usable across multiple devices.
Photo by Muhammad Rafizeldi on Wikimedia, licensed under CC BY-SA