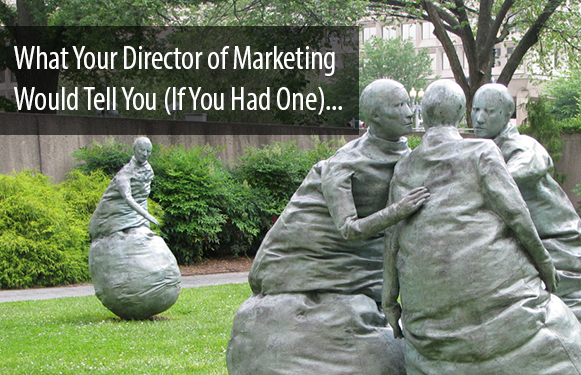 Our team recently attended Hubspot's Inbound 2014 conference in Boston and at one of the keynote presentations, Dharmesh Shah, co-founder of Hubspot, told the audience that salaries for marketing professionals are going to be on the rise. The reason he explained is that 'marketing' is now responsible for a much larger part of the buyer's journey than before.
Some estimates say that a buyer is 60% of the way through their 'buyer's journey' by the time they contact the vendor.
In this new scenario, the role of the salesperson has also changed significantly because now they are receiving leads which are far more qualified than they were previously. Much of the 'selling' was already done online through content created by the 'marketing' team, which the prospective buyer found when researching the vendor's product or service.
Through the use of marketing automation software, such as Hubspot, the salesperson has a lot more context available, so when they speak with the prospective customer, they know exactly what they're interested in because they can see what the prospect has read and downloaded from the website.
Given the fact that marketing is playing a larger role in the sales process in today's digital world, it's probably a good time to evaluate what your company is doing for lead generation and how you're measuring those strategies. In case you don't have a Director of Marketing in-house, we thought we'd help you out with what they would tell you if you did...
SEO is not a marketing strategy.
You need SEO, of course, so that potential customers can find you online, but SEO in itself is a tactic, not a strategy. It should be included as part of your overall plan to attract visitors, but you're cutting yourself short if that's all the "marketing" you're doing.
PPC is not a marketing strategy.
The more prospective clients we meet with, the more we are of the belief that PPC ads are like Marketing 101. If companies are doing only one thing to generate leads, it's usually PPC ads. As with SEO, PPC is a tactic, and is best used in conjunction with other tactics as part of your overall strategy.
You can't have a marketing strategy without website analytics.
We are amazed (well not really because it happens so often) with how many companies have absolutely no idea what their analytics look like. This is your company's digital report card which tells you what is working and what isn't. It is the most beautiful thing about digital marketing and technology – we don't have to guess at what works – we can know for certain because the numbers tell us!
Social Media should not be managed by the receptionist.
No offense to receptionists because we all need them... to answer phones, greet customers, help our office run more efficiently, etc. However, just as we wouldn't expect our receptionist to design us a new logo, we also shouldn't expect them (or anyone else who wasn't experienced and properly trained) to manage our social media. Just because someone uses social media personally does not mean they are necessarily the right person to manage it for a business. A lot of know-how and experience goes into a good social media strategy if you want to get results. And a lot of damage can be done if social media is put into the hands of the wrong person.
Don't penny pinch on your new website.
In the digital age of today, your website works 24/7 as a lead generation machine if it's built right. You don't need to break the bank, but you do need to put a decent amount of time and thought into your customers, what information they're looking for and the best way to give it to them. Once the new site is live, you also need a content marketing strategy going forward so that you keep attracting new visitors and delighting existing customers.
Want to know more about the ROI of your marketing efforts? This cheat sheet> will walk you through the six critical marketing metrics every small business owner needs to know.
Photo by nostri-imago on Flickr, licensed under CC-BY