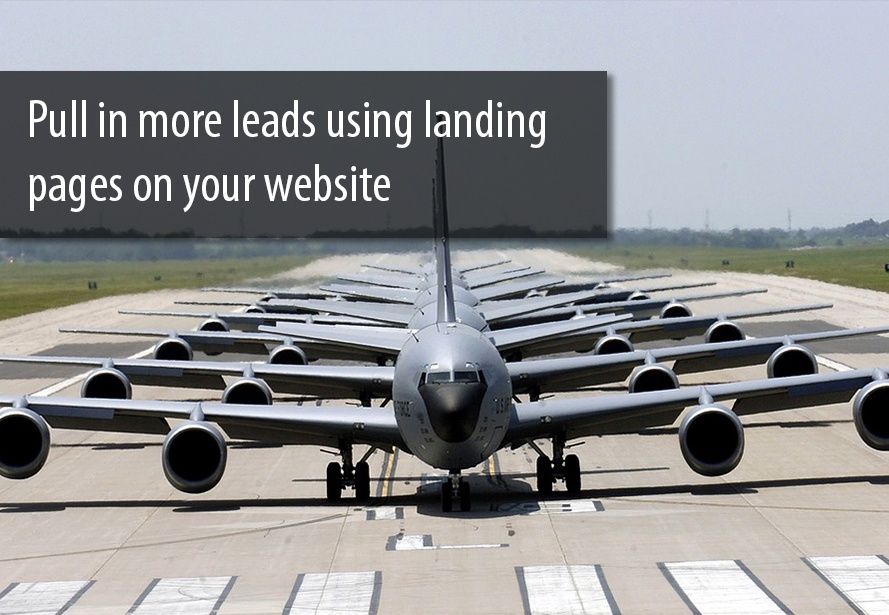 When you first begin your digital marketing quest and hear that you should be creating landing pages to generate more leads, you may ask yourself:
"Why can't I just send visitors to one of my existing web pages?"
The answer is: you can -- if your product or service does not require extensive research or doesn't have an extended buying process, like ordering a clever t-shirt or a pair of work boots from an online retailer. If that's the scenario, go ahead and direct your online ads and links to a product page.
But in the case of buying or remodeling a home, the process is complex, and homeowners are searching online to research the latest trends in design and construction. Linking directly to your "Contact Us" or "Schedule a Consultation" page from social media or a blog post does not provide homeowners with any additional content and most likely results in potential leads leaving your site. By creating landing pages for your marketing campaigns, you can target and nurture leads for specific purposes.
---
Three reasons why landing pages are a great tool for builders and remodelers:
1. Landing pages can be targeted
For starters, landing pages can be created to closely target the demographics of your ideal customers. For instance, if your Facebook ad is targeted for a first-time home buyer or a newly engaged couple, you can create a landing page to include content and imagery that is relevant to those specific demographics. When you match your customers' motivations, good things tend to happen in terms of lead generation.
Tip: To capture the lead, make sure the corresponding offer also matches the needs of your ideal customers. Use similar phrasing and imagery throughout the conversion pathway (from the original ad or call-to-action to the landing page and subsequent offer) to help visitors convert into leads for your business.
2. Landing pages can serve specific purposes
Using HubSpot's COS, you can easily create landing pages based on templates that don't require intricate coding. As such, you can quickly create separate landing pages for different campaigns without the need for a developer on each project.
For example, in addition to your content marketing efforts, you may also want to capture leads from an upcoming trade show that your company will be participating in. One way to accomplish this is to create a landing page in advance specifically for visitors to your booth.
Tip: While face-to-face interaction during the show is crucial for sales, should you provide visitors with easy access (via a landing page) to more information about your services, such as a detailed case study or industry-related research report, they have the opportunity to become a lead after the dust of the show has settled.
3. Landing pages can trigger the lead nurturing process
After a visitor fills out a form on your landing page and becomes a lead, you don't want to leave them in limbo. To nurture the lead, the next step is to offer them additional value on a corresponding "Thank You" page with links to more resources. At the same time, you can automatically trigger an email campaign to help leads navigate through the buying process. This is known as marketing automation.
Tip: To top off the marketing automation process, once a lead has been nurtured through an email campaign, you can set an automatic email reminder for your sales team to follow-up with the lead on a more personal basis.
---
You may have taken the time to develop a great website for your home building or remodeling business. But don't expect your site to generate many leads without effective landing pages. Landing pages are an important tool to maximize your digital marketing efforts for specific content marketing campaigns or offline events such as trade and home shows. Give those potential leads a place to land.
Is your website working hard enough to generate leads for your business? Download our FREE Website Marketing Scorecard.