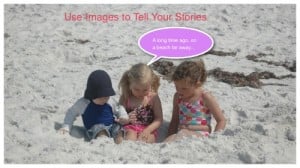 Recently we've been having a lot of conversations with clients about the importance of using images to tell a story. But why is it important? What is the return you get for the extra effort required to find or create a relevant and interesting image?
There are 3 primary reasons we recommend ALWAYS using an image with anything you post on your blog or in Facebook.
Reason #1: Increase engagement.
People love looking at pictures. This is why Pinterest has been so successful. In fact, one statistic we saw said that articles with images receive 94% more views! If you can get the same message through looking at an image, or by reading text, which would you prefer? Especially in an age where we are inundated with content, looking at images is a pleasant diversion.
Reason #2: Use more images in your posts for SEO.
Pictures, videos, infographics, etc can all be tagged for SEO purposes, thereby helping your blog and website to receive more traffic. And we all loooove traffic.
Reason #3: Facebook posts with images are given more prominence in news feeds.
Previously, Facebook posts with offsite links showed previews of 90 x 90 pixels, but that has now been increased to 154 x 154 pixels. So, when you're promoting your business blog on Facebook, your blog post's featured image will be prominently displayed. This helps business owners who are using Facebook to drive traffic to their own websites. The exception to this change is for video. Most likely because Facebook prefers users to upload their videos on Facebook itself, versus hosting them on YouTube or elsewhere.
So the bottom line is to please always include an image with your posts. Be creative! Use the camera on your phone and think of ways to tie nice photos into your business topics. It makes the post far more interesting and you will catch the attention of a lot more people.