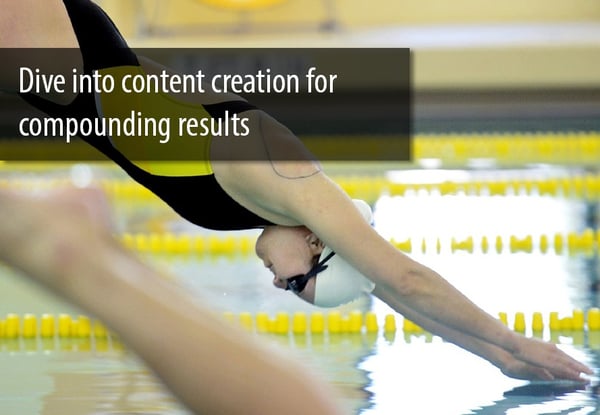 Ok, so I'm not sure about your specific competitors, but if you're not yet creating consistent, quality content on your website and sharing it across the web, you're undoubtedly falling behind your competition.
Look, I get it, blogging is hard. It requires a smart overarching strategy, a lot of time, decent writing skills, and the right technology. Yet at the end of the day, there are other things your business could be doing to generate more traffic, leads, and sales faster. That's why many business owners and high-level managers opt to skip the content creation (whether it's blogging, video production, graphic design, etc.) and put their time and money into easier marketing and sales campaigns that produce better results faster.
What's the problem with that?
"Fast" marketing/sales tactics like cold calling, list buying, paid advertising, direct mail, etc. tend to be expensive and once you've paid and picked up a few leads/sales, you have to spend more right away. To put it another way, the results you get are directly proportional to the amount of money you spend. As soon as you stop spending, you stop seeing that traffic and those leads roll in.
Content marketing isn't likely to pay off quickly but many would argue it's a smart long-term investment because over time, the value of your content compounds.
Every piece of content you publish on your site will continue to draw traffic from search results long after initial publication. For example, if you publish a blog post today and share it across social media channels, it will probably get some views and maybe generate a lead or two. But unlike an ad that comes down the minute you stop paying, that blog post will stay up for the days, weeks, YEARS ahead and every day, if search-optimized, it will continue to bring new traffic to your site. Each blog post is essentially a tiny, 24/7 salesperson working just for the cost of the post's initial creation.
But don't just take it from me, check out Tomasz Tunguz's excellent blog post on "The Compounding Returns of Content Marketing."
Bonus: When these blog posts generate leads for your business, they cost significantly less than leads you got from those "fast" tactics I mentioned earlier.
Why you're probably falling behind your competition in capturing these leads from content and search results:
The whole idea of the compounding value of inbound/content marketing rests on the assumption that your blog posts show up in search results.
For companies who started consistently creating content a few years ago and have amassed several hundred blog posts, ranking for targeted keywords is less difficult. If any of your competitors is in this position, it's going to be tough to catch up.
Google decides which content/website pages to list on top of search result pages for certain keywords based on a number of factors. Put very simply, these include:
Number of clicks through to your website from search pages over time
Number of total indexed pages on your website
On-page engagement on each site page - do searchers appear to find what they were looking for on your site?
Referral links to your site pages - are other websites referring to yours as a credible source of information?
You can find greater detail on search engine ranking factors here, but what you really need to know is that it's hard to catch up when your competitors has more indexed pages than you, exponentially more clicks over time, significantly greater on-page engagement (which they certainly will if you have very little engage-able content), and more referral links.
So where to go from here...?
For long-term success, we recommend getting started with content creation right away. Find out whether there's opportunity to rank in your industry, and if so, start writing blog posts that 1) answer your prospects'/customers' questions and 2) incorporate the search terms your buyer personas would be searching for.
All that said, it will take awhile for your content marketing efforts to start paying off, so we also recommend you supplement your efforts with a short-term "outbound" or "fast" lead-generating strategy to ensure you always have your marketing/sales funnel full. Check out this blog post for more info on how and when to use inbound marketing vs inbound.