How can I make my business more efficient?
You've been keeping up with the latest tech tools to make your business run smoothly in the increasingly digital marketplace — great work! But as your apps start to accumulate, keep in mind that the taller your tech stack, the more likely it is to topple due to human error.
Relying on your team to remember to update the data in all of your applications can be risky and inefficient. It's way too easy for information to get lost in the shuffle. It's only a matter of time before someone forgets to transfer information manually between your tech and causes someone else to inadvertently drop the ball on a hot lead, an order request, or a customer inquiry.
How can this efficiency gap be solved? By integrating your tech stack through HubSpot.
Benefits of an integrated tech stack
All of these tech tools exist to make your life easier, but as you add applications, the burden of labor falls on you to make sure that they are all working together. Wouldn't it be nice if they could sync automatically?
If you're using HubSpot, synching your applications isn't just a pipe dream, it's possible — and easier than you'd think.
No one likes manual data entry, but you can't afford to let potential sales fall through the cracks. To keep these impediments from affecting your bottom line, let's take a look at how HubSpot's digital integrations can save you time and eliminate errors.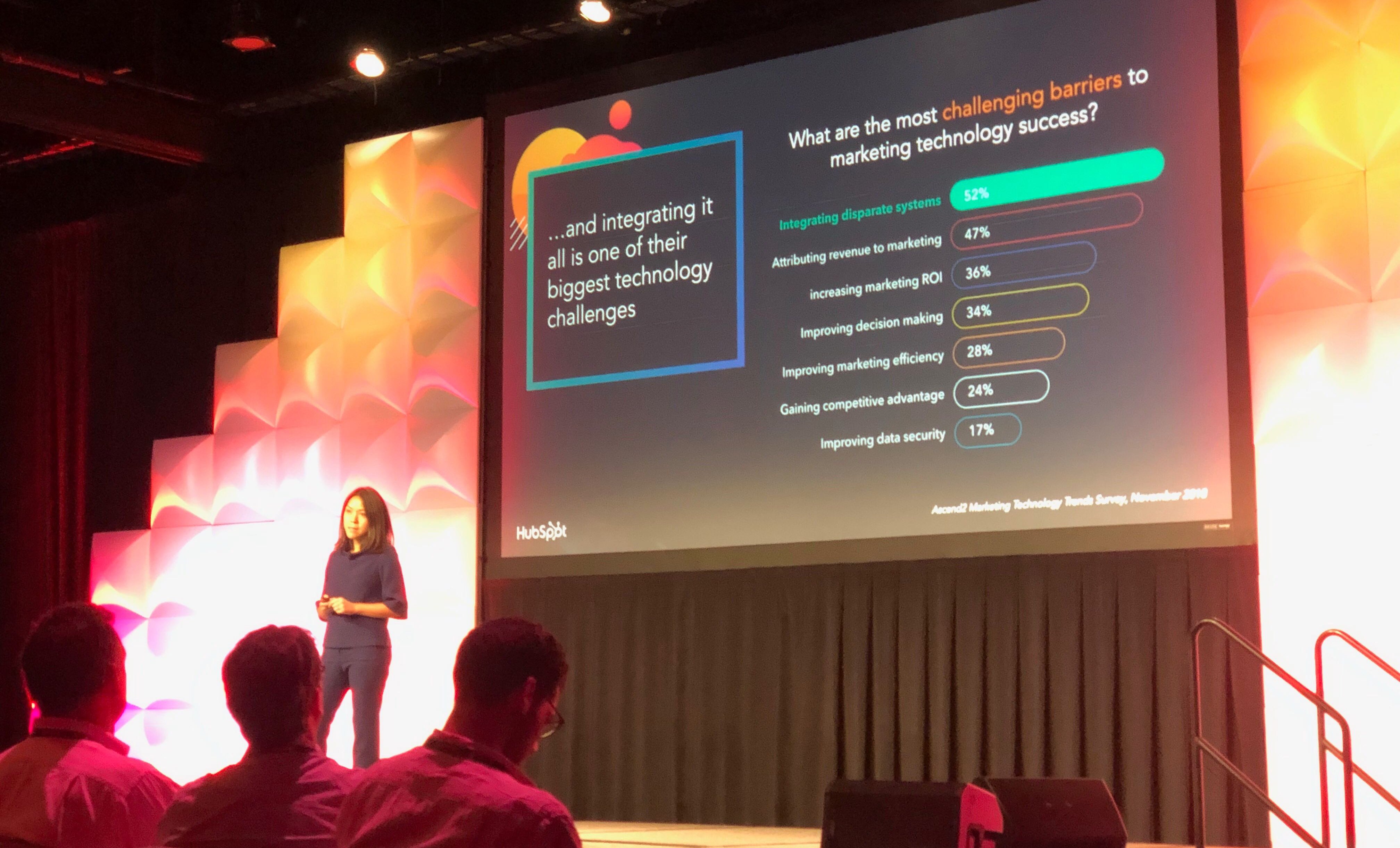 At INBOUND 2019, HubSpot identified technology integration as one of the biggest challenges facing businesses today, emphasizing the need for humans and technology work together.
HubSpot plays nice with others
HubSpot's mission is to help organizations grow better as an all-on-one solution. But despite the versatility of the platform, the brains behind HubSpot are smart enough to realize that they can't specialize in everything. In order to meet your unique business needs, HubSpot has opened the doors to third-party tools that can integrate HubSpot with your business operations.
If you've ever thought that you couldn't do something in HubSpot, think again! Here's a list of 14 things you can do in HubSpot using integrations and the top tools — listed alphabetically — that you can use to get the job done.
1. Manage Your CRM
Your sales and marketing efforts are only as good as the CRM that supports them. If your customer database is full of duplicate contacts or inaccurate information, you might be wasting your energy sending out content to dead emails or mailings to outdated addresses.
A clean CRM is a useful CRM. Save time by merging duplicate contacts and improve the quality of your data by creating consistent formatting for key fields like names, phone numbers, and titles. Schedule your customized CRM cleanup to run automatically on a daily, weekly, or monthly basis.
Are you already using Salesforce? By integrating with HubSpot, you can let your sales team keep using a familiar interface while your marketing team leverages HubSpot's powerful and comprehensive marketing platform. Salesforce and HubSpot will automatically sync their data so that both systems are always up-to-date.
2. Collect New Leads and Gather Data
You've got the website traffic...now what? Capture information from your leads and customers so that you can continue to nurture and delight them.
Turn your most popular content into lead-generating machines by embedding qualifying questions into your blogs, landing pages, and PDFs. Gather insights about your prospects and use performance data to supercharge your campaigns, deliver the right content at the right time, and improve your sales outreach.
Automatically sync responses to your CRM and create new contact records from unknown visitors. Create lists, set workflow triggers, update lead scoring, and more based on survey data.
HubSpot forms are great, but sometimes you need a little bit more flexibility. With Typeform, you can create trackable and mobile-ready quizzes, contact forms, and sign-up forms that automatically sync with the HubSpot CRM.
3. Host Videos and Pull Video Analytics
Video is a powerful marketing tool, but how can you measure its effectiveness? These tools gather the data you need to evaluate the performance of your video content.
HubSpot and Vidyard are BFFs, making your marketing smarter by segmenting, qualifying, and nurturing leads based on how they interact with your video content. Feed video data back into HubSpot to score leads, segment customers, and trigger lead nurturing workflows.
Not only does Wistia host your videos and track their performance, it also offers features like opening cards and CTAs. If a visitor converts on your video, their viewing data will sync with their HubSpot contact record automatically.
4. Manage Documents and Proposals
When your documents and proposals are anchored to the HubSpot platform, you can ensure that everyone will be able to find and access the latest version.
Automatically populate contact information from the HubSpot CRM into new quotes, proposals, and contracts. Attach documents to the appropriate contact or company record and receive HubSpot notifications when your documents move on to the next stage.
Close contracts faster when you follow up on an e-signature request from within your HubSpot CRM. Keep tabs on your document and see when your client receives, opens, and signs it right on the contact's HubSpot timeline.
Use the Proposify tool to build and edit professional-looking proposals — from a template or from scratch — within the HubSpot platform and attach them to a deal. Sync contact and proposal properties between between the two platforms and get real-time updates in the HubSpot timeline.
5. Support Sales and Service with Chat
53% of customers would rather live chat with customer support than call a helpline. By connecting your chat with HubSpot, your interaction doesn't start from a blank slate and you'll be more helpful to the customer, allowing you to provide a better customer experience.
Chat with people who are visiting your website and automatically log the conversation on the contact's HubSpot CRM record. Create customized follow-up based on the contact's activity and conversations.
Give your sales team context for their next phone call by providing transparency into a contact's support experience from from within a contact's HubSpot record. Delight your customers by triggering workflows based on their interactions with your service team.
6. Integrate Your Email and Calendar
Keep your activity in sync by linking your email and calendar to HubSpot. Already have a preferred email marketing platform? No problem — HubSpot can connect to it.
Both of these integrations allow you to track emails and log them to the

CRM, as well as use templates and snippets right inside your email tool. You can book meetings to your calendar right from the HubSpot CRM and create branded booking links to share with reps and prospects.
If you've already built out your email marketing or newsletters in Mailchimp, you can continue to use it with HubSpot. Simply send your HubSpot contacts to Mailchimp, and it will notify you of any sync errors.
7. Organize Internal Operations
Nothing throws a wrench in your operations quite like human error. Miscommunication between departments is easy to resolve when you integrate your tools.
Want to create consistent internal communication between your teams? Build a workflow in HubSpot that will automatically create follow-up tasks in Asana for a seamless hand-off.
Create transparency between departments with Jira ticket visibility on the customer's HubSpot record, so everyone is on the same page.
Stop flipping back and forth between your digital tools. Create HubSpot tasks, receive notifications, and use slash commands to search for materials — all without leaving Slack.
8. Streamline Data Reporting
You could spend hours just transferring data into spreadsheets, let alone deciding how to display it. With these slick tools, you can see how your campaigns or website are performing in a well-designed, intuitive interface.
View data from multiple sources, including HubSpot Marketing and Sales, on any device. With one-time set-up, you'll avoid the endless copy-paste drudge. Build custom reports to dial in on your KPIs or take advantage of pre-built reporting templates.
Want to know what's resonating on your website? Generate heat maps for any webpage to see exactly where your visitors and HubSpot contacts engaged with your content. Take action on these insights to improve your conversion rates.
9. Utilize Video Conferencing and Webinars
Forge a personal connection with your leads and clients by interacting face-to-face.
Sync your landing page forms with your GoToWebinar event, send invites and reminders using HubSpot's email tool, and use registration and attendance information to create targeted follow-up campaigns.
Create a video conference meeting from any HubSpot contact record, send reminder emails using workflows, and use webinar data to craft customized nurturing emails to follow up.
10. Manage Event Registration, Payment, and More
Events are a great way to build your brand awareness, but they take a lot of time and energy to put on. Save yourself time by digitizing your event logistics and syncing contact information to HubSpot.
Bring the power of your HubSpot CRM into your offline events by collecting new leads, tracking your event registration, and nurturing your contacts after the event.
11. Track Your Calls
Send, receive, record, and track outgoing and incoming calls directly within your HubSpot CRM. What could be easier?
Keep an eye on your customers' needs with this cloud-based business phone system. Call activity and recordings are automatically logged against the right contact in HubSpot.
Track your customers' journeys from discovery to purchase by looping offline activity into your HubSpot data so that you can evaluate which of your marketing efforts are working best.
12. Send Snail Mail
Be unexpected. Your contacts are sure to take notice when your nurturing efforts show up in their physical mailbox.
Send hyper-personalized mailers triggered by HubSpot workflows. When someone interacts with your mailer's content in the digital space, you will receive a notification so that you can tee up a timely conversation.
Diversify your nurturing efforts with custom postcards. Build direct-mail campaigns using your HubSpot CRM and use workflow actions to trigger customized mailings to your leads based on their activity.
13. Sell Product and Collect Data from Sales
In today's digital age, your website is just as important as your storefront, so shouldn't your customers to have the same experience online? The ability to take digital payment and utilize shopper activity data for marketing initiatives is, in a word, priceless.
Sync your store data to HubSpot and take action on previously hidden e-commerce opportunities. Engage customers with abandoned carts, create product-specific retargeting ads, and more.
Eliminate the back and forth of billing via email. Start accepting credit cards and get paid directly from quotes created in HubSpot's native tool.
14. Everything Else
Didn't find what you were looking for? Check out the HubSpot App Marketplace for the 350+ integrations HubSpot supports. Don't see your favorite tech tool listed in their library? Don't sweat it — there's an app for that!
Create an automatic two-way contact sync between HubSpot and your favorite app with no technical help needed. Stop spending time on manual data entry, avoid duplications, and eliminate data transfer mistakes.
Connect HubSpot to any of 1000+ supported third party apps for automatic, seamless data transfer. Build processes to schedule, delay, or parse your data before transfer, with no coding experience needed.
Make your life easier
These are just a few of the integrated apps and tools that work with HubSpot. There even more that automate processes within a company like billing, social media publishing, communication, and project management. The more you can automate, the more you can get done at a faster rate with fewer mistakes and less money spent.
Wondering about your next integration with HubSpot? Contact us to amplify your tech stack!