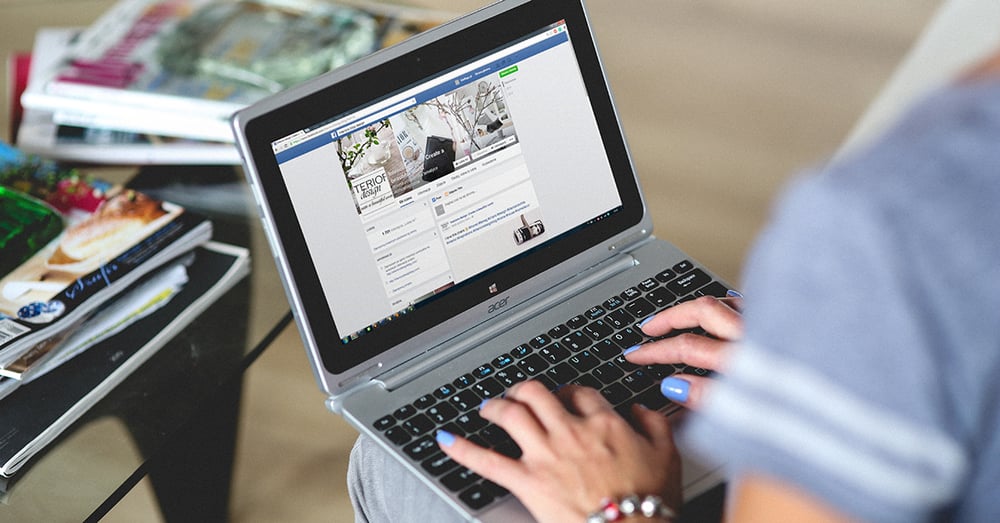 Are you concerned about social media risks for your company? If so, you're not alone. A survey examining corporate social media risk found that 71% of companies are concerned about social media risks, but only 36% provide social media training for employees.
If your company is among the savvy (but minority) businesses that have a social media policy, then you're already ahead of the game. But you shouldn't stop there. Just having a social media policy doesn't mean your employees will act on the policy, use it, or even understand it.
After putting a social media policy into place, the next important step is to implement a social media training program for your employees. Training can help your business mitigate risk on social. Training can also empower employees to be more effective, responsible and confident in what they're sharing online. Additionally, the right training program can help position your employees to be brand advocates who can expand the reach and visibility of your brand.
When it comes to building a social media training program for employees, it's important to be clear about what you want to accomplish, who should receive training, and what content should be covered.
GOAL #1: Safety and Risk Management – Protect the company and your employees.
The first priority is safety and risk management — for your company and your employees. Your social media policy should already contain the critical elements for protecting your company and employees on social. The goal of training, then, is to take that social media policy and transform it into a living, breathing resource that staff use, understand and can refer to. (The last thing you need is a policy that staff members see only once when they get their employee handbook.)
For your business, safety and risk management issues include...
Protecting the company's online identity,
Avoiding damage to the brand (and potential revenue loss),
Having the right systems in place to appropriately respond to social media incidents, and
Staff and team roles and responsibilities.
For employees, safety and risk management issues include...
Education on balancing personal and professional online identities,
Risks to privacy,
Protection from penalties (clear understanding of policies and expectations), and
Staff and team roles and responsibilities.
Who should be trained?
Every staff member in the organization should receive training on social media safety and risk management.
What content should be covered?

Your company's social media policy is the basis of your social safety and risk management training program.
GOAL #2: Becoming a Social Business – Harness the potential of employee brand advocates.
As the role of social media in business continues to grow, it's important to look not only at risk mitigation, but also at scaling engagement. Socially mature businesses are effectively scaling engagement by transforming employees into brand advocates.
Take a look at this slide from SocialMediaToday. The stats show us that employee advocates are incredibly effective at building trust and expanding the brand's reach.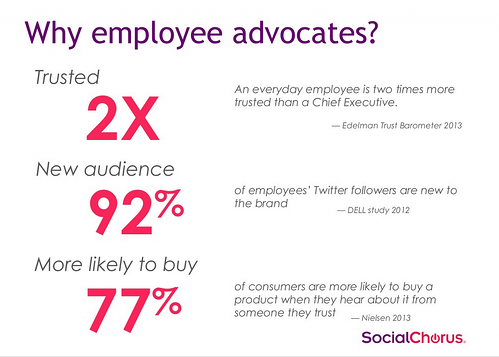 Source: SocialMediaToday via SlideShare
To start with, it's a good idea to focus the employee advocacy program on one or two primary objectives, such as:
Campaign-Focused Activities (products, events, etc)
Talent Recruitment
Priority Target Audience Engagement
Who should be trained as a brand advocate?
Because employee brand advocates are using their own social networks to promote the brand, it's important to establish a clear, mutual fit between the brand and the employee — a fit that meets the safety and risk management issues covered in your social media policy.
In general, a business should consider the question: "How will this employee's personal social media activity reflect on my brand?"
In turn, an employee should carefully consider: "Do I want to use my personal brand and social channels to promote my employer's brand/content?"
What training topics should be covered?
Training should start with a recap of the social media policy to help ensure optimal safety and risk management for both the company and the employee. Additionally, the social media policy recap will cover any expectations around disclaimers that should be used during employee promotion/sharing of brand content.
For example, Sprint's employee ambassadors, a.k.a. Sprint Social Media Ninjas, use the following disclaimer before tweets and posts: "donating my status to sprint."
When a mutual fit is established, brand advocate training should cover…
Social platforms and best practices
Corporate social media strategy
Priority audiences
Brand tone/voice
Collaborative system for content creation, sharing and engaging with customers.
Beyond Formal Training. Embracing Employee Empowerment
Formal training is an excellent way to kick-start an employee advocacy program, and it will help your business quickly on-board new advocates. However, in terms of ongoing education, it's a great idea to build in systems to empower your employees, and to encourage team discovery of new, effective practices. To encourage on-going learning in your advocacy program, consider...
A cross-functional, employee brand advocacy leadership team. This team would be comprised of your most active and influential employee social advocates. The team could serve as in-house experts on your social advocacy program.
Social brand advocacy champions. These "champions" would help promote the program internally to increase participation.
Employee-led lunch-and-learns to share best practices.
Pressed for time? Learn how to monitor your social media accounts in just 10 minutes per day with our free eBook.
Photo: Alan Levine via Flickr; modified