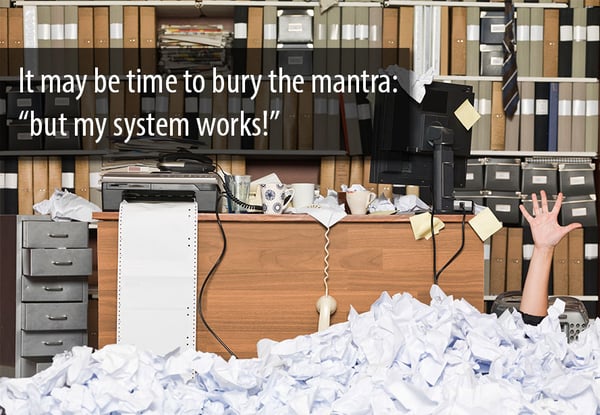 If you're considering your first CRM or you're thinking of switching to a different CRM, then you've come to the right place.
As Mark Twain said, "The secret to getting ahead is getting started." Even though you might be thinking you should have done this earlier, there's no time like the present.
CRM Definition
First, the term CRM can be a little confusing, so let's make sure we're on the same page: Customer Relationship Management (CRM) started as a manual system to manage customer relationships in order to improve and maximize the value provided by a vendor to a customer. The process can be done - and is still being done by many experienced sales folks - with the old-fashioned planner, journal, or maybe an Excel spreadsheet. It is essentially a way for sales people who want to be organized, proactive, and highly efficient to obtain better results for themselves and their organization.
In the 'digital age' the term CRM has become a digital system. A digital cloud-based CRM is a software solution, accessible from any device (mobile and desktop), that allows you to sell in a more efficient, more proactive way.
The benefits of using CRM software include:
Automated reminders for tasks and follow-up activities
Automated and semi-automated email messages
Synching with online or cloud-based calendars
Reduced errors and missed opportunities
Real-time pipeline activity tracking
---
---
What Is The Most Popular CRM?
The most widely used and well-known CRM software is Salesforce.com, and here's their definition of CRM:
"C-R-M stands for Customer Relationship Management. At its simplest, a CRM system allows businesses to manage business relationships and the data and information associated with them."
What Is The Best CRM?
Arguably the most user-friendly CRM software is from HubSpot - first and foremost - to save time for sales people. According to data, The average sales person using the Hubspot Sales CRM is said to save up to 90 minutes a day thanks to the contact data automation and usability of the software.
Is there a free CRM?
Yup. Free for your entire sales team. Forever.
Hubspot CRM is a functional, user-friendly CRM that is free for any sales person or company to use. Yes, that's right, it's not a free trial, it's FREE with unlimited contacts, users, and storage with no expiration date, whether you're a team of 1 or 1,000.
Check it out and enjoy! (and let us know if you would like some assistance taking it to the next level)
What Are Some Other CRMs?
Salesforce and HubSpot are the two most highly rated according to G2 Crowd, but we would be remiss if we didn't mention:
Nimble
Pipedrive
Salesnet
PipelineDeals
Zoho
Who needs a CRM and who doesn't?
If you have one or more people in your organization dedicated to sales, you can benefit from a CRM
If your sales process requires multiple steps, meetings or calls, it tracks these for you
The bigger the sales team, the more imperative it becomes
If your customer service team needs to know what happened during the sales process, a CRM allows the history to be shared between people and teams
How do you choose a CRM software solution?
We recommend CRM & Sales Process Consulting. We can help you through the consideration factors for choosing which CRM is best for you including:
Size of your sales team
Reporting requirements for Sales (i.e how many levels does the sales team have)
Degree of difficulty in learning to use the CRM
Budget for software, implementation and training
Compliance factors (certain industries have strict requirements)
---
---
Share your thoughts, leave a comment below: