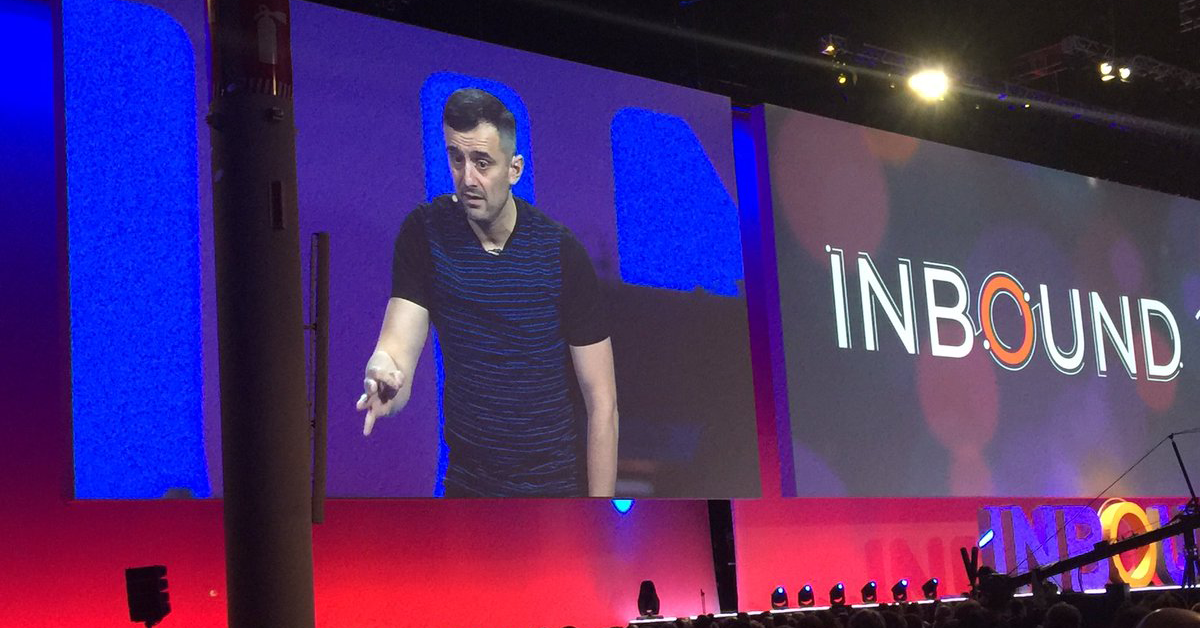 HubSpot's annual conference, INBOUND, kicked-off last night in Boston! A few members of our team are fortunate to be here to learn, be inspired, and connect with like-minded marketers and business people.
The conference opened with a short performance by Leslie Odom Jr., of Hamilton, who was able to remind us all that there are many great things in this country, regardless of what is happening around us with the Presidential election. The keynote speaker was the well-known modern media guru, Gary Vaynerchuk.
If you haven't heard of Gary "Vee," he is the ultimate marketer and modern-day business person. Gary was born in Russia and immigrated to the U.S. with his parents as a young boy. I first heard of him about 10 years ago when he became known for growing his family's wine business through early adoption of the internet and Google AdWords.
He then went on to start VaynerMedia, which now has a team of 750 people and is opening an office in London. VaynerMedia works with big brands like Under Armour and Pepsi.
Gary talks straight, uses colorful, salty language, and undoubtedly has a higher degree of risk tolerance than most people. He had a couple of messages for all of us which we thought were important to share.
Importance of Self-awareness
Gary believes that if there is one thing we should all strive to be better at, it's being more self-aware. Although he wasn't a particularly good student, he was very self-aware from an early age, and he attributes much of his success to that.
In order to understand what we're good at, we need to realize that failure is part of the process. We're so lucky to live in a country where when you fail, you can pick yourself up and try again.
In order to be okay with failing, often repeatedly before figuring out what works, we need to not care what other people think about us. Much worse than what other people think about us, is the feeling of regret. That is Gary's worst fear.
If we feel like we need to "re-set" our perspective, we should spend time in nursing homes with older people and be reminded that regret is the worst. As we age, we won't be concerned about the things we did, but more about the things we didn't do.
Embrace Change
Gary compared the transformation of what is happening now with the internet to the transformation that happened after the invention of the printing press. It is so huge – and the impact is so wide — that the companies who don't embrace it will be put out of business. Instagram, Snapchat, Youtube and the like are the TV of the future — and TV is becoming like radio in the 40s.
If we want to do business today, we need to be on those channels because our buyers are spending time there. Gary believes that we need to have a much higher risk tolerance for trying new platforms.
Equally important to embracing change, is to stop doing things that don't work anymore. Sending email blasts or bulk LinkedIn messages that aren't personalized, are an example. No one reads them, they get deleted without being opened, and they leave a VERY bad impression. Gary said that as marketers, we suck if we still use those tactics.
Facebook Ads & Influencer Marketing
Where are OPPORTUNITIES? Gary believes there are two big ones right now which aren't being exploited to the degree that they should be; paid Facebook advertising and influencer marketing.
With paid Facebook ads, he thinks the supply/demand curve is going to change dramatically over the next 1-2 years, and it's going to get MUCH more expensive.
Facebook advertising is cheap at the moment and in general, we underutilize Facebook's ability to target prospects in such a granular way, with content. One cool example he gave would be to create a short video for our prospect company and then target the ad with that video to all of the employees of our prospect, asking for a meeting with the decision maker.
In comparison, other ads (Twitter, banner, etc.) are overpriced and don't deliver the return we can get with Facebook.
After Facebook, the next biggest arbitrage is influencer marketing. These are people who already have our prospects' interest. He suggested that we're not leveraging those opportunities enough. As a way to get started, we can search hashtags for our industry and then contact those influencers one by one. Ask them to promote our products or services in exchange for a fee.
Combine Creative & Science
Gary talked about the differences in traditional advertising, where creative is super important, with what we do using inbound marketing, which is largely driven by science (data and analytics). We can leverage inbound more than we currently are by combining creative and science.
Creative is the variable of success and it's how we can make our brand stand out.
Make Long-Term Decisions
Overall, Gary thinks businesses today should do a better job of keeping their eye on the horizon to make better long-term decisions. If Marriott had done that for example, they would have invented AirBnB. Or if Greyhound had been thinking long-term, they would have developed Uber.
There are so many new technologies being developed that we should constantly be aware of what those are to try and put ourselves out of business by making our business model obsolete. If we don't do that, someone younger and hungrier will.
As marketers and business people, we have never had it better. The next ten years are going to be GOOD times, and there are lots of opportunities for the people and businesses that take advantage of this environment.
What did you think of Gary's talk? Let us know in the comments below.