If you're the leader of a small or medium-sized business, there's a good chance you have read "Good To Great" by Jim Collins. It's on many leaders' Top 10 Business Books list. But have you read Collins' little gem called "Turning the Flywheel"? This petite, on point, page turner is essentially a guidebook to implementing the flywheel architecture he references in "Good To Great."
Collins believes that building a great company or social sector enterprise is never the result of just one amazing innovation, process, moment, or lucky break, but rather the result of turning a very heavy flywheel and gaining momentum. You start pushing the flywheel inch by inch until you finally get it to turn once. You keep pushing, removing the fric(tion), and it starts to gain momentum. Collins' research for "Good To Great" found that a flywheel moving with compounding momentum, is what leads to building a great company.
Getting a business to turn like a flywheel sort of reminds me of this: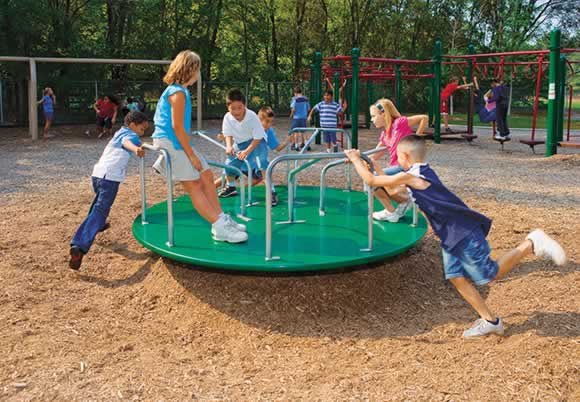 But in reality, it often feels more like this…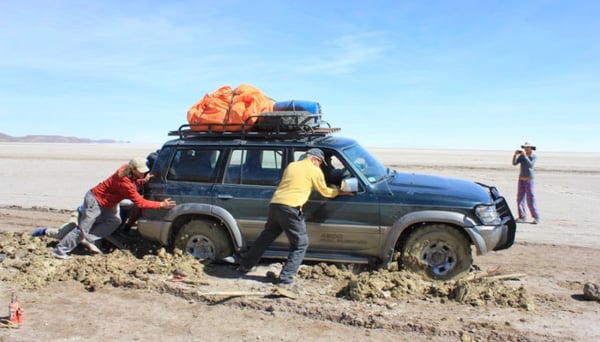 Collins met with Jeff Bezos and the Amazon team in 2001 to help them build their flywheel. They came up with a model whereby if you add "fuel" to any part of the flywheel, the momentum accelerates. This is what the 2001 Amazon flywheel looked like:
Since then, the Amazon flywheel has been extended, and new technology accelerators, such as artificial intelligence, have enhanced its momentum. But the original architecture is still working, and is what has enabled the company to continuously create value for its customers and all stakeholders.
HubSpot is another company obsessed with the flywheel. HubSpot's CEO, Brian Halligan, described some of the reasons why in this HBR article. In comparison with the traditional sales funnel, the flywheel does a better job of capturing how word of mouth and momentum impact revenue.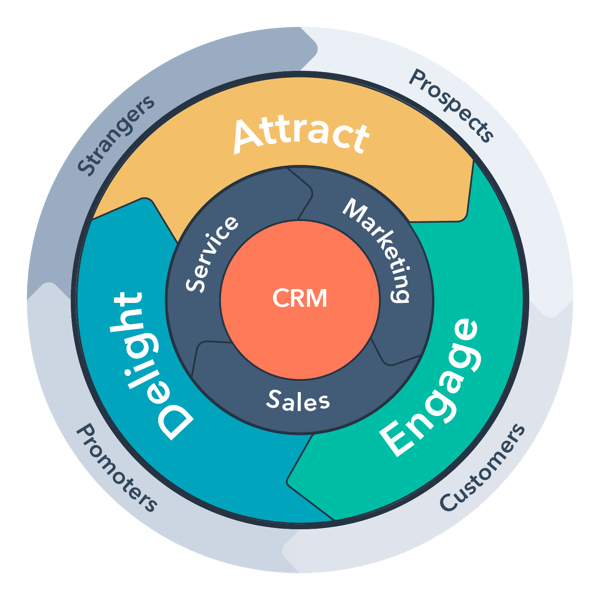 At Denamico, we've also created a flywheel to visually explain how we help our clients reach their goals. When you strengthen any section of the flywheel, it enables it to spin faster.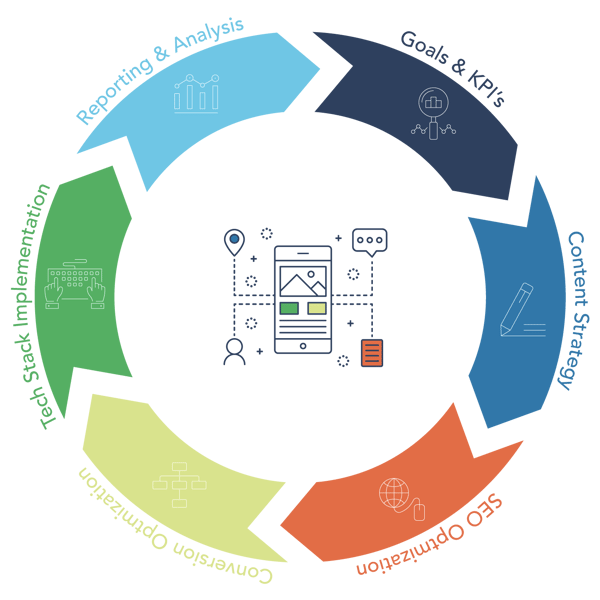 Each client we work with is different and has unique strengths, challenges, and goals. But what is constant across all clients is that Data, Technology, and Processes are incorporated into their flywheel somehow. When the Data, Technology, and Processes are aligned, their flywheel turns more easily, and gains momentum.
An example of this in action is with our client, Sunspace Twin Cities, a distributor of porch windows. The owner, Brandon Williamson, was already investing in technology, knew the importance of processes, and focusing on only the right data. But he needed an outside opinion on how to align them so that the three worked together to make his business more efficient. One way we helped him optimize is flywheel was by segmenting their website traffic and leads into two categories: B2B (building contractors) and B2C (homeowners). That allowed them to market to each of those groups in a more relevant way, and get the Sunspace flywheel spinning faster. The result was a 40% increase in revenue within one year.
PURIS Foods, a manufacturer of plant-based ingredients, wasn't getting the conversion rates they wanted from their landing pages. We helped them rebuild and customize their landing pages in a way that resonated with their prospective customers. It also made it easier for PURIS to recreate those landing pages for future use in-house, without having to rely on our team the next time. This change to how they used their existing technology was like adding fuel to a section of their flywheel and as you can see here, the impact was significant.
| | | |
| --- | --- | --- |
| 235% | 1000% | 500% |
| Increase in time spent on page | Increase in form submissions | Increase in new contacts |
Sunspace Twin Cities and PURIS Foods are not alone. As we've spoken with many different clients and companies this year, we've found that most organizations are struggling to scale growth because these 3 areas are not aligned:
Data ·
Technology ·
Process
With this in mind, it was pretty easy to decide on a topic for DenamiCON, our annual conference on business growth. We wanted to talk about solutions to some of the most common challenges businesses face today. Things like…
How can I know at any moment what is in our pipeline?
Does my sales team know which leads to focus on?
My sales team is amazing. But could they be closing even more?
My biggest barrier to growth is finding good employees. Is there a way to automate recruiting?
How can I calculate my marketing ROI? Is that even possible?
We have systems for everything, but they're all siloed. Isn't there a way to get the data I need from one integrated system?