Delighting customers goes far beyond the realm of customer success today. In order for companies to reap the benefits of success, customers must be satisfied enough to want to recommend your product to others — the ultimate goal in today's digital world.
According to McKinsey & Company, "Word of mouth is the primary factor behind 20-50% of all purchasing decisions, especially when considering a first-time purchase or something relatively expensive." With recommendations driving such a large segment of sales, how can companies encourage satisfied customers to refer their product to others?
Referral marketing is a tactic used to turn customers into promoters. If a company successfully combines rewards and incentives, acquiring new clients is done at less cost and a higher rate. Studies have shown that when companies use referral marketing there is a correlation with more new clients and an increase in profits.
"Referred customers had a 16% higher lifetime value." —Harvard Business Review
Here's the catch though, it's not always easy to get your customers to refer your company to their network of connections. Customers who willingly refer and recommend companies do so because they want too. However, it's not the only way to incite referrals. Customers who are given an incentive to refer typically choose to do so as well. Many companies have noticed this and have begun using incentives to drive customer reviews and referrals.
So how can you do the same? We'll discuss why companies should invest in referral programs, what makes up these plans, and the steps that are needed to create a plan.
Why do businesses need referrals?
Referrals use the relationships of friends, family, and acquaintances to share information, generating a lot of engagement and brand awareness which then leads to an increase in sales.
Referral marketing increases company visibility, attracts new clientele, and increases profit. The basic referral mechanism includes these five steps:
Standard Referral Path:
Create offer for new customers
Create reward for promoters
Publicize referral program
Convert friends to customers
Reward promoters
Beyond added engagement and awareness (which are important factors), referrals are a good investment for any company due to the fact that they increase sales.
Having customers refer your business to others is incredibly valuable and it doesn't cost much. eMarketer.com reports that "53% of internet users visited websites referred by friends or family."
One of the biggest reasons that reviews and recommendations are gaining so much power during the buying process is that people trust those around them more so than a company.
"People trust friends and family more than virtually any other information source, and pay 2x more attention to recommendations that come from friends than other sources." —Lightspeed Research
So when trust in connections is quite important, how are businesses able to compete? There are many benefits of having a referral program. Companies are able to:
Build relationships
Build trust
Build confidence
"Referral leads on average, are 4-10x more valuable than regular leads, resulting in shorter sales cycles, increased win rates, and larger order sizes." —Influitive
Building relationships, trust, and confidence among your customers is essential to gaining referrals and repeat business.
7 Steps to Building a Successful Referral Program
1. Organize your goals
It's important to know what you want to get out of a referral program. Goals should be tied to growth, revenue, retention, or a mix of those options, and knowing what goals you seek is imperative to success. When you're able to define your goals you'll be able to set the precedent for the next steps in the plan.
Try to have your goals be SMART: Specific, Measurable, Achievable, Results-focused, and Timely. With SMART goals in place, you're sure to remain on track with substantial goals set forth rather than out-of-the-box ideas or wild and crazy objectives.
2. List customer referral sources:
Begin creating a list of all those who you've already connect with in both past and present, current customers, potential leads that didn't close, industry leaders, vendors, and so on. This list is a good starting point!
Target these people via referrals to get better fit customers:
High-Value/Long-Term Clients
Partners
Related businesses
Employees
Leads
3. Make a Plan
From your list of potential referral sources, you're going to want to narrow it down. Identify those who know the value of your business and would refer you without needing an incentive.
One thing you will want to consider during this stage of the planning process is knowing when to ask your customers to take part in your program. Look at the relationship with that particular customer to see if asking for a referral is best done at the start of the relationship or later on. Then it's time to make a plan.
Pick Your Program
Evergreen Programs: These plans are one-time setups that provide an ongoing opportunity to drive growth and revenue. As these types of programs are continuously going on, companies need to remind their customers, promoters, and friends frequently that there is a special reward waiting for them.
Limited-Time Programs: These plans are only offered for a certain period of time in order to generate excitement. Programs of this kind create a sense of urgency to act quickly which causes an increase in referrals and conversions.
Give customers a little bit of breathing room after you've asked for a referral before you nudge them again. Some customers may want to see how your product or service works over a longer time period before they recommend it to others.
4. Identify Referral Incentives
Referrals include both incentives and non-incentive programs. A study done by the University of Chicago found that, " non-cash incentives are 24% more effective at boosting performance than cash incentives."
Consider offering something of value to both the current customer and the potential lead. Not only are customers incentivized by the value they receive, but you are also giving them an opportunity to share the benefits with a friend or family member.
Some rewards for those who refer your company to others might include cash, gift cards, credit by a third-party, in-store credit, coupons, points to a reward, discount on future spending, and rebates. You may even consider a tiered system where the reward changes based on the number of referrals (i.e. the more referrals, the better the reward) or a stage system (i.e. a referral that works in a multi-step platform).
All good programs result in rewards that benefit both clients and companies. You may want to think about having a variety of plans for different people to draw in more attention. While discounts on products and services are popular, take a look at types of loyalty plans that offer clients more than just a discount or cash back.
5. Create resources and promote, promote, promote
One you've got your referral plan in place, it's time to think about what resources you need in place in order for your customers to join. This stage is all about promoting the program on multiple channels.
Here are a few methods to promote your plan to customers:
Home page calls to action
Landing page calls

to

action

Workflows
Blogs
Emails
Post-purchase emails
Post-purchase confirmation pages
Newsletters
Social media posts
6. Set Tracking and Metrics
While referral programs all have similar basic structures, they should be unique to your company and directly trackable.
Referral programs should also be tracked so you can understand who was referred and by whom, as well as when they were referred, and if that person converted into a customer. Knowing the who and when of tracking allows for nurturing of leads and following up with currently customers.
A few good questions to ask for tracking include:
Who is referring?
Why are they referring that friend, family member, acquaintance, etc.?
Where does the referred party fall in the sales process?
At what point did the referral become a customer?
At what point did the referral not become a customer?
Which promotional method worked best?
Which incentive worked best?
When should your referrer receive their incentive?
Beyond tracking customers and nurturing leads, invest in a CRM to keep track of your relationships. Your CRM tracks customer success and relationships, but you'll also want to track key performance indicators (KPIs). Some KPIs include sign up data, data from shares on social channels, promoter data of clicks and referrals, and what customers are saying about the referral program.
You'll want to look into software for referral programs in order to tracking your program's success. HubSpot does a great job providing trackable marketing automation tools to compliment your program. Google Analytics is you go-to tool for tracking website visits, sources of traffic, and ultimately the success of the program itself.
7. Send a Thank You
This is great time in your referral plan to add incentives. It's important to thank new customers for their purchase and to thank those who referred them for bringing in new business. Keep it short and lighthearted!
What makes a great referral?
After setting up a plan, you're going to want to dive into creating your referral program. There are many different things that make up a great offer, but two that we always like to use are 1) catchy headlines, and 2) amazing imagery.
1. Utilize words to create catchy headlines and draw in referrals: This is the first thing that current customers are going to see when you get their attention. Headlines are a very crucial part of this process — if your headline does not draw in referrals, then you're at a loss. Make sure you have the gist of what your program is within one sentence (explain the program, benefits, and value).
Here are a few examples of powerful headlines:
Give $10, Get $10
Give your friends $10
Refer a friend and get $20
Free stay when you refer a friend
Invite your friends for $20 off
You share, we share: 20% off for you and a friend!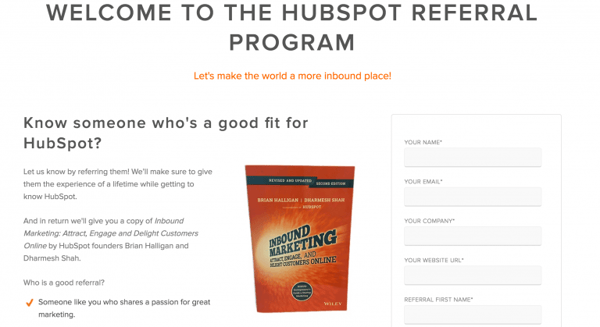 2. Images go a long way in the digital world: Imagery within your offers creates excitement and it may even speak for you. Show off the reward through photography or explain the process with creative images to break up text. Photos will help keep people engaged throughout the referral process. Consider utilizing a "hero shot" — an image used to sell something. Make sure to keep the image relevant to your company and the referral program.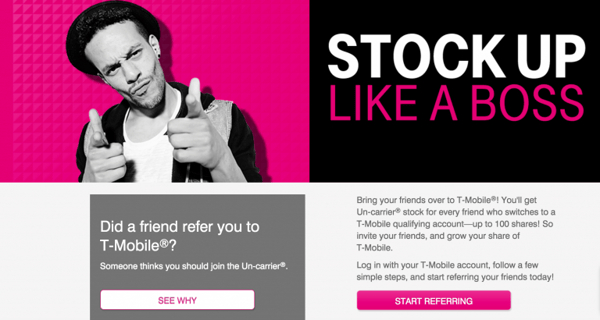 3. Don't forget your call to action (CTA): Make sure your CTA is insightful, catchy, and findable.



How can Denamico help with your referral program?
While customer referral programs may take time and effort, if done well, the results significantly outweigh the costs.
It's okay to try something new too, your customers might even find referral programs refreshing if you've never tried them before. Don't forget to utilize those landing pages, emails, social channels, and so much more to get your referral program booming.