How to Build Data-Driven Personas Using Facebook Audience Insights
7 min read
January 15, 2015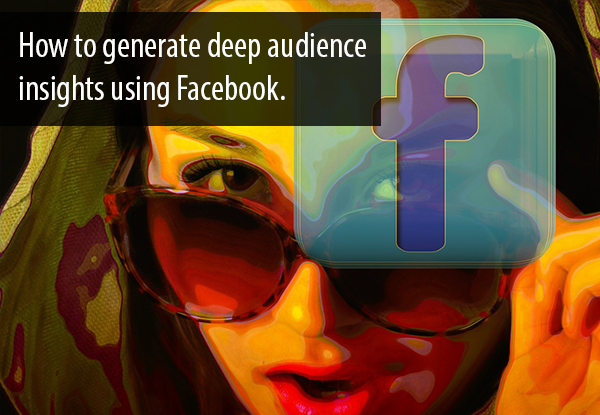 If you're at all familiar with inbound and content marketing, you know that deep buyer personas are one of the most important foundations for success. Every piece of content you create and curate is meant to address the needs and interests of your ideal customer — your persona.
The key to effective personas is to dig deep and create a clear picture of exactly who your ideal customer is. And we're not just talking about describing your persona as someone who is a 40-something year old female senior manager. We're talking about uncovering her goals, challenges, communication preferences, interests, background, and more!
Persona interviews are a great way to develop these insights. But there's another powerful tool at your disposal. And as an avid marketer, you likely use it multiple times a day — Facebook.
You can use Facebook Audience Insights to develop deep, data-driven buyer personas. Here's how...
You'll use Facebook Audience Insights to examine two core audience groups:
Your existing Facebook audience (if Facebook is a viable channel for your business).

Your email list.
Let's start with the most straightforward examination, your existing Facebook audience.
1. Examine Your Existing Facebook Audience
Log into Facebook and go to Facebook Ads Manager. From here, click on "Audience Insights" in the left-hand menu.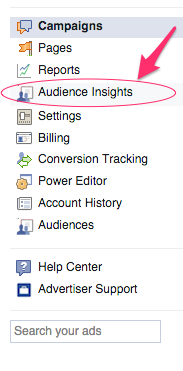 Facebook will then ask you which audience you would like to start with. Click "People connected to your Page."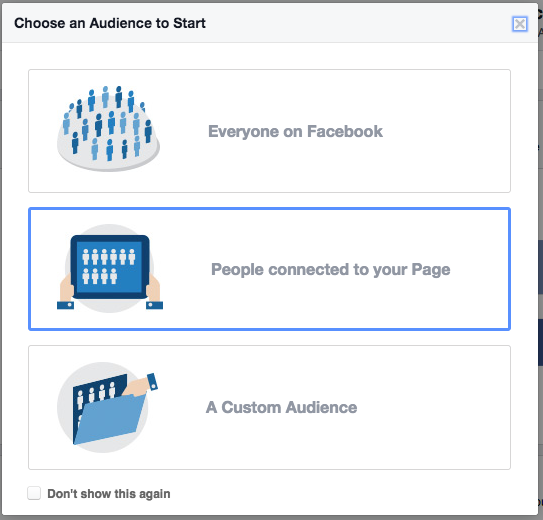 From there, you'll be prompted to enter your page into the "People Connected to" filter box.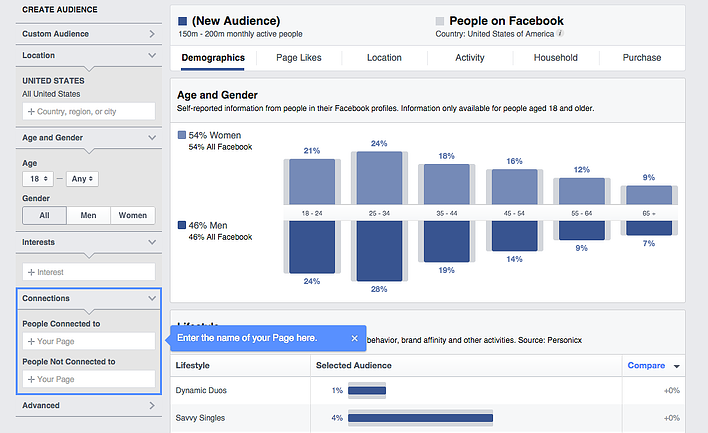 Once you've added your page to the connections filter, you'll be surprised how much you can learn about your audience!
Demographics
Age and Gender: You can get a clear look at the age and gender of your existing Facebook audience.
Lifestyle: Facebook will also provide you insights into lifestyle of your audience.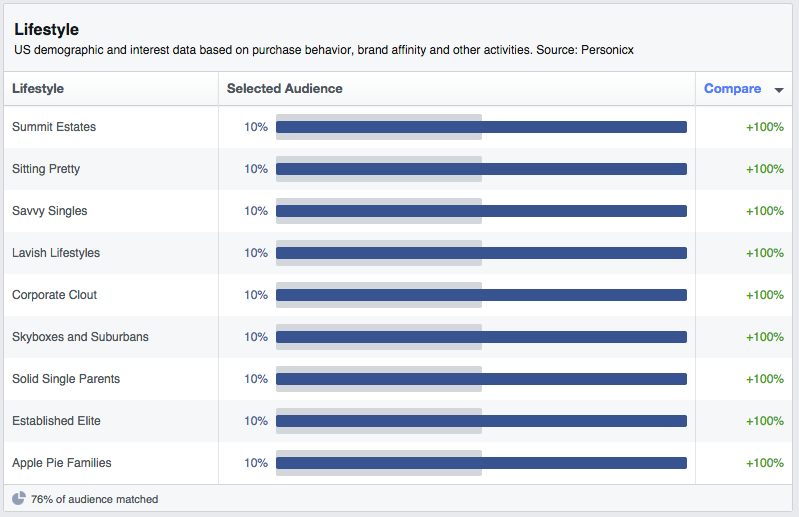 Facebook uses creative and intuitive names for lifestyle segments. But if you're looking for a more flushed out description, you can hover over the segment and click the info icon. For example, the "Corporate Clout" lifestyle segment is described as the following:
Corporate Clout contains well-educated and well-compensated singles and couples in their 40s and 50s. These corporate executives and professionals are serious travelers, whether for work or pleasure, and intelligent investors.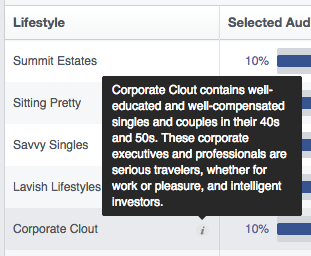 Relationship and Education: You can also see data on your Facebook audience's relationship status and education level.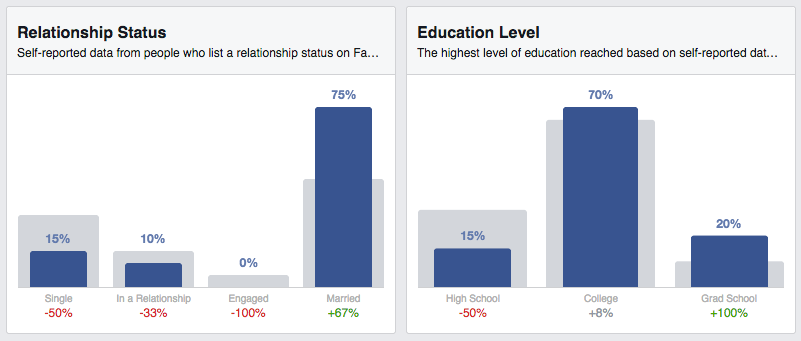 Location
And of course, you can see exactly where your audience is concentrated.

Online Activity
Facebook Activities: You can gauge your audience's Facebook activity compared to the Facebook average.

Device Users: The activity insights will also tell you which primary devices were used among your audience members to access Facebook.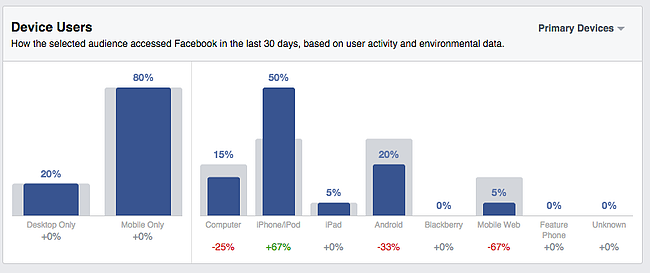 Household
You can see your audience's estimated household income and homeownership.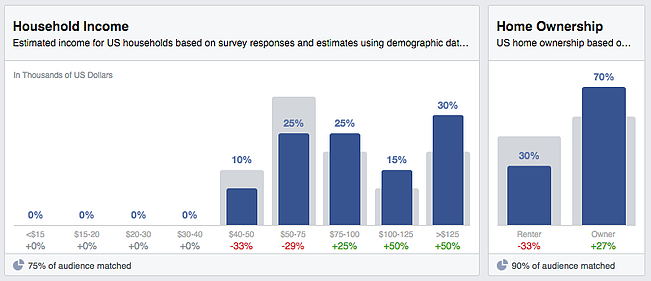 And if that wasn't enough, you can also see information on household size and home market value...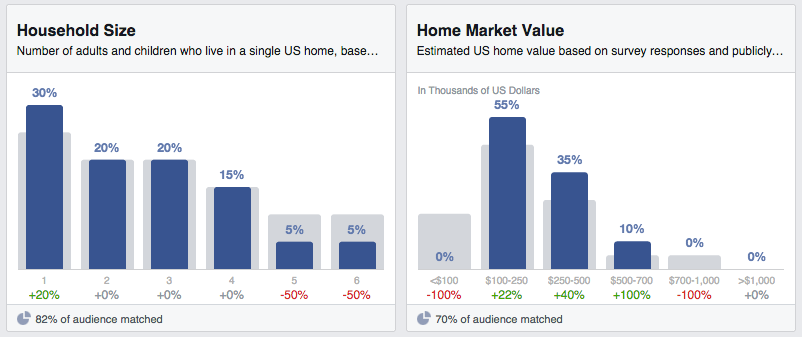 Purchases
You can also see information on your audience's retail spending patterns and online purchases...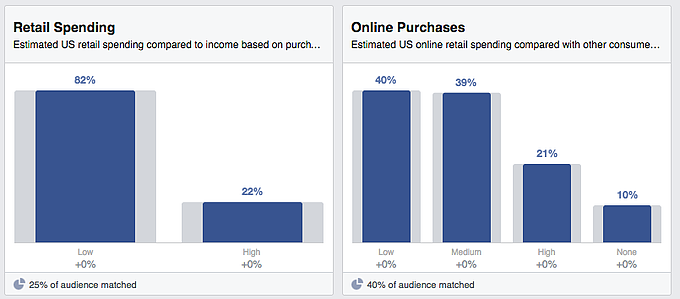 ...as well as trends in what items your audience members are purchasing.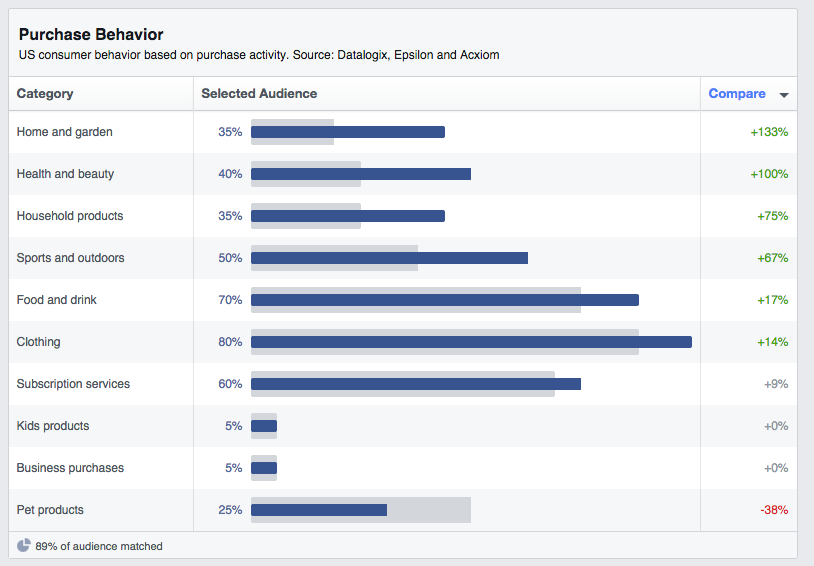 With deep insights into your existing Facebook fan base in place, it's time to move on to your email list.
2. Examine Your Email List
Taking a look at your existing Facebook audience is a good place to start, but it does have its limitations. After all, the goal with developing accurate personas is to paint a picture of your ideal buyer, not your ideal Facebook fan. Not to mention, for some businesses, Facebook may not be the most viable channel.
Enter email. Leveraging your email database for this exercise can be far more powerful than simply sticking to your Facebook audience. This is especially true if you've engaged in great email marketing practices by segmenting your audiences (and not sending email blasts).
Since this exercise is all about building deep insights into your ideal customer, I would recommend focusing on one very important segment in your database – your existing customers.
Here's how to use Facebook to mine deep insights into your existing customer base.
Create a Custom Facebook Audience Based on Your Customers
First you'll need to have an up-to-date customer email address list ready in CSV format. You'll use this list to create a custom audience in Facebook. From Facebook Ads Manager, click on "Audiences" in the left-hand menu.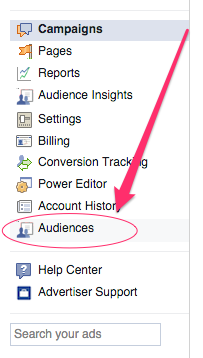 Next, click the green "Create Audience" button in the upper right-hand corner, and select "Custom Audience" from the drop down menu.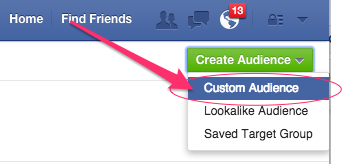 Click "Customer List", and then click "Upload a file."
After you have uploaded your file, Facebook will notify you when your custom audience is ready to use. (It takes a modest amount of time for Facebook to match user profiles to the email addresses you uploaded.)
Once you have successfully created a Facebook custom audience, you're ready to examine that audience in Facebook Ads Manager.
Examine Your Custom Audience
For this step, you'll want to click on "Audience Insights" in the left-hand menu of the main Facebook Ads Manager home page. Facebook will then ask you which audience you would like to start with. Click "A Custom Audience."
Next, at the highlighted prompt, add the custom audience you created in the above steps. (Note: for these audience insights to work, you'll need to have a customer list of 1,000 or more. To protect the privacy of people on Facebook, data will not be shared for groups less than this size.)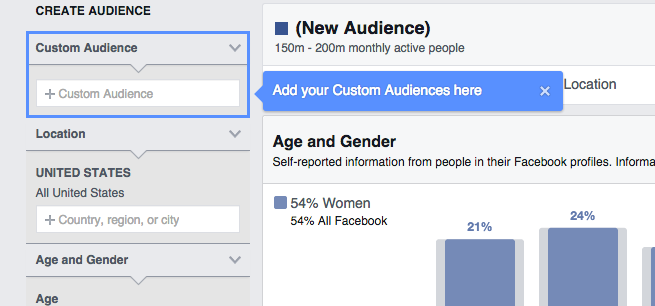 At this point, you're ready to explore all the deep audience insights from demographics to online activity that were described above in the Facebook page audience examination. Only this time, it's data about your customers!
Okay, now what do I do with all of this information?
As you're examining these audience insights, look for trends across your audience. Be sure to pay special attention to the trends that emerge from your custom audience of existing customers.
As you notice trends, be prepared to add these notes to your persona profiles. If you don't already have a system for organizing persona info and insights, you can use a persona template.
You can also try examining two separate custom audience groups: your customers and all non-customers. Take a look at the trends to see what notable differences emerge.
Have you used Facebook Audience Insights to develop deeper buyer personas? What approaches did you take?