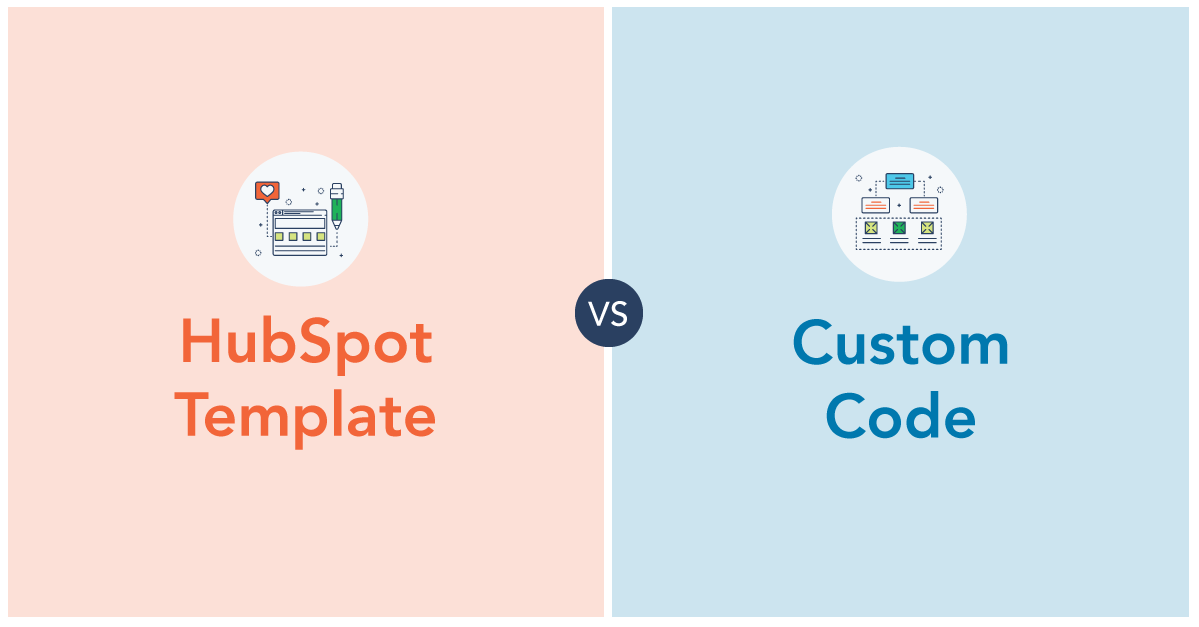 Redesigning your website or starting from scratch is a big deal. If you're struggling to make that initial decision between HubSpot template vs. custom site, keeping up the momentum to continue can be a tough. Below, we'll break down our approach to helping our clients determine which option is best for their business.
HubSpot Template vs. Custom Website
Both options have their benefits. Let's dive into some common factors that might sway you in one direction or the other. When deciding, you'll want to consider your timeline, budget, and functionality requirements.
When to use a HubSpot template
You're on a tight timeline
Building a new website can take anywhere from weeks to months depending on the extent of your content, page count, and structure. Streamlining that process by using a template allows you to smoothly add in your unique content without the setbacks that can plague the custom development process. The end result: you get your new website launched sooner.
You have a tight budget
Utilizing a HubSpot template that has all the coded features already built in saves a ton of hours that would have otherwise been spent on development from scratch. Saving work time ultimately saves you money, and you'll still end up with a shiny new website for a fraction of the cost. And just because you're using a template doesn't mean your website will look like everyone else's — there's still plenty of room to customize it to your unique brand. What's more, employing a template will allow you to easily add webpages down the road without having to pay a developer to code the additional pages from scratch.
You don't require complex functionality or custom add-ons
HubSpot templates make it very easy to create a site full of text, images, forms, dynamic content sections, and even eCommerce solutions. Plus, the HubSpot platform supports thousands of integrations with popular apps and software tools. If your website doesn't need fancy add-ons or custom integrations, using a template with multiple content-based modules is a great solution. It will offer you enough layout options while also creating engaging and easily editable webpages for a clean and modern end result.
When to use a custom coded design
You want to take your time and build the perfect solution
If your end goal is to create a completely unique solution that's completely unlike anyone else's, a custom template may be the way to go. This solution will be much more time-consuming and will take longer to get launched, but the end product will give you the ability to create something completely unique that perfectly fits your needs.
You have a large budget and are willing to invest it in your site
If multiple dollar signs aren't holding you back, investing in a custom template might be the solution for you. Having a larger budget will allow you to develop a completely customized design with pretty much any functionality you can imagine. The sky is the limit!
Your site requires complex features that a template can't offer
Templates don't always offer the ability to add in custom features. If your site needs more than just text and image layout options, creating a custom site might give you a more sophisticated end product with more freedom to enhance customization down the road. Just be sure you mention all custom functionality you want to incorporate now and in the future to your developer at the start of the project. It can sometimes be difficult to add on additional custom functionality after the fact when you go the custom route.
Your website is one of your most important business tools, so creating the right solution is key. Be sure to consider all your options and partner with an agency that will listen to your business' unique needs and goals to help you create the best end result possible.