When looking for a new CRM you'll find many options on the market, but two options that you'll consistently come across are HubSpot and Salesforce.
Both CRM options have earned top rankings because of their ever-evolving solutions that help companies of all sizes scale growth while integrating seamlessly with other solutions.

So, what's the difference between HubSpot and Salesforce in terms of a CRM?

Functionality
While both HubSpot and Salesforce are cloud-based CRMs with additional platforms for marketing, sales, and service, you'd think these two platforms are one and the same. Yes, they can both accomplish similar tasks, but if you dig a little deeper, you'll begin to see stark differences.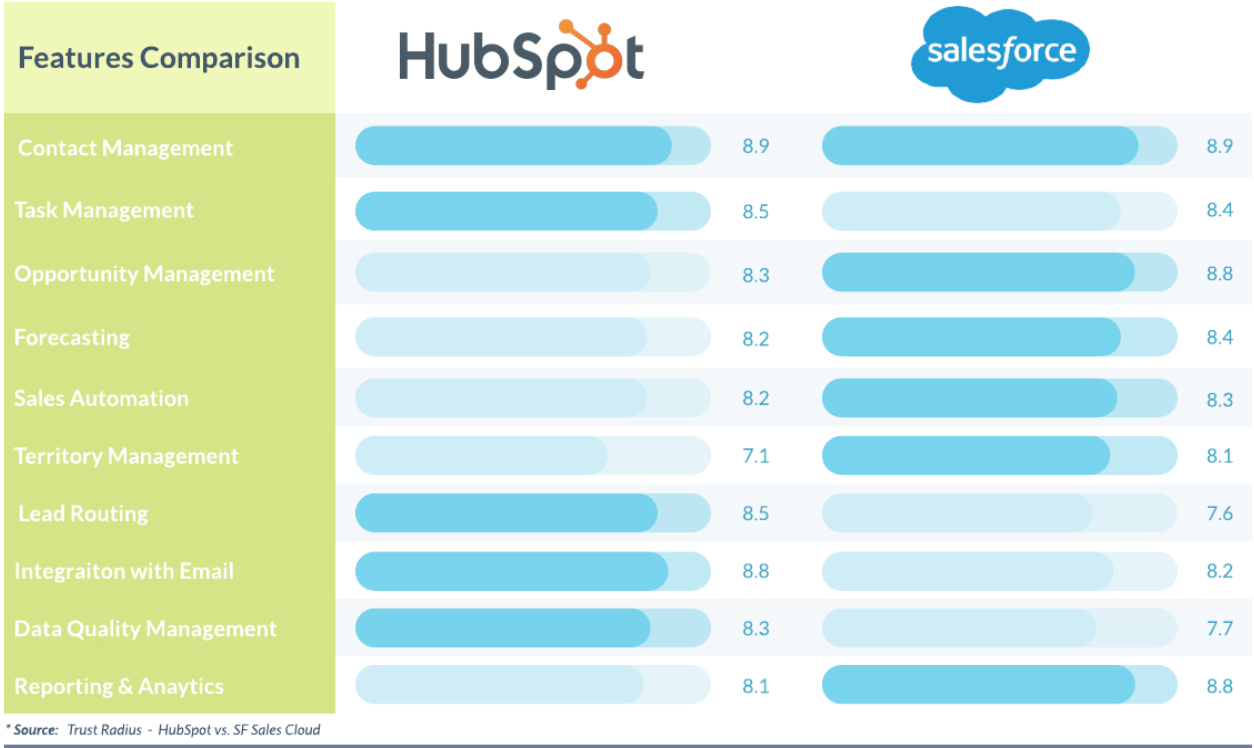 Implementation and Support
When you go to purchase a CRM, the first thing you need to do is implement it into your business. Ask yourself: Is this something you and your team are comfortable doing alone?
HubSpot's mission to be an out-of-the-box CRM focuses on simplicity for sales reps all the way through to your management team and beyond. You'll spend less time teaching your team how to use the CRM as it can be easily configured by an admin to meet your team's goals.
If you're looking for a little extra support, HubSpot Academy and the HubSpot Knowledge Base are accessible to all CRM customers (even those using it for free!), while phone and email support are available for Pro and Enterprise customers at no extra cost.
On the other hand, a Salesforce implementation looks a little different than HubSpot. Designed to be built into your business, you'll need an in-house or contracted Salesforce Admin to help set up your Salesforce instance and get it working the way you need. Support for Salesforce also requires you to pay 20% of your contract up front. However, after that you have 24/7 support at your fingertips. As your instance grows, the amount you pay for support grows as well.
Usability
Since you'll be using this platform daily, it's important to understand the usability of each product.
When looking at rating sites like TrustRadius and G2, HubSpot seems to outperform Salesforce when it comes to ease of use, ease of setup, ease of admin, support, and so on. Salesforce has the edge when companies have time and resources to set up and continue to manage the product full-time.
Scalability
If you're looking for endless customization since you're in a complex organization, it may be best to check out Salesforce, as this customization can enable top-of-the-line reporting and forecasting that may be necessary for your organization.
But, if you're just getting started, or the reports you need are similar to those of most businesses, then HubSpot can be easily configured to adapt and meet your business goals.
Pricing
Let's talk about money, as this can be the tipping point when it comes to making the final decision. That said, looking purely at the cost is not always the best way to look at what many would consider the lifeline of your business.
Pricing considerations to keep in mind when comparing Salesforce vs. HubSpot:
Which tier of each platform will I need?
How many users are going to be leveraging the sales tool
Is my organization implementing on its own, or are we paying HubSpot or Salesforce, or a third party to implement for us?
Do we need outside support? If so, what will that cost?
With drastically different pricing models, the needs of your business will sway the cost for the software you end up choosing. Although HubSpot starts out as free, adding on access to different Hubs and functionality quickly brings you to a paid version.
On the other hand, Salesforce operates as a traditional SaaS subscription model that adjusts based on the needs of your users and business.
Reporting and Analytics
Can software pay for itself?
By giving your company the ability to run reports, prove attribution, and automate processes that would otherwise take time from your employees' days, it seems like the simple answer is yes.
Although analytics hasn't been HubSpot's core differentiator, they're making progress to make it simple to show attribution to revenue, along with many other marketing and sales numbers that are important to many businesses.
Although their reporting may be simple, Salesforce takes the cake for reporting as it seems it's endlessly customizable (as long as you have the right training).
Cross-Functionality
Both HubSpot and Salesforce have marketing tools that interact with their CRM and sales functions, aligning your business' otherwise fragmented systems. HubSpot Sales, Marketing, and Service hubs were all built in-house, meaning they're made to interact with each other, and they have a consistent look and feel throughout the platform.
Salesforce, on the other hand, offers more products and tools (before looking into both integrations libraries) but they have these tools due to acquisitions. As a result, you need to be savvy in multiple software platforms as there are nuances in each system. With Salesforce, you'll feel as if you're jumping between software even though you're technically still in your Salesforce ecosystem.
The choice on the right CRM for your business is yours, but remember:
When it comes to choosing the right CRM for your business, it's best to base the decision on your goals, wants, and needs while keeping in mind the people or organizations that can help you to reach those goals in the easiest, most efficient way.
As a business owner, it's imperative to make the right investment the first time when it comes to selecting a scalable, all-on-one platform.
Do you know what questions to ask when weighing your options? With numerous platforms out there, finding one that meets your company's unique needs can be daunting.
Our CRM Implementation Checklist shows you the right questions to ask when considering a website, marketing, sales, and customer service system that can grow and evolve with your business as your needs change.