During the 2017 INBOUND conference last month, VP of Product, Christopher O'Donnell highlighted HubSpot's improvements to their Sales, Marketing, and CRM platforms while introducing new features that will be rolling out over the coming year. O'Donnell made it clear that they were continuing to advance all elements of their platform with an end-to-end customer experience in mind.
New Products & Features
Social
HubSpot is continuing to scale social integrations across multiple platforms. Soon within the social tool, you'll have the ability to post on Instagram directly from HubSpot. O'Donnell then showcased the new Facebook integration, including: Lead Ads, Audience Sync, and Video Publishing.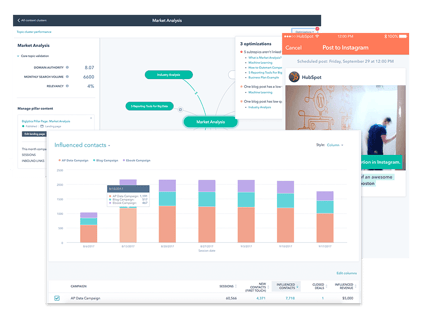 Lead Ads
Facebook Lead Ads can now be built within HubSpot. These ads are a great way to generate leads from users who prefer to use the platform on mobile devices.
Facebook Audiences
Many marketers are familiar with Facebook Audiences and implement them in their marketing strategy. With that knowledge, HubSpot has created a way to sync Smart Lists to Facebook Audiences, so you're targeting exactly who you want based on certain criteria. Since these audiences are running from Smart Lists, there is no need for manual updates – HubSpot automatically syncs the lists. With this release, you're also able to create Facebook look-alike lists within HubSpot. HubSpot takes the information from a Smart List and creates a list similar to who you're already targeting.
Video Publishing
Also on the horizon is the Facebook Video Publishing tool, where you can upload videos right to the file manager so they're ready to be published in your next post. Videos can be published through the social tool with minimal effort.
Account Based Marketing
Are you supporting inbound efforts with account based marketing? HubSpot and Terminus have joined forces! With this integration, your ABM efforts can be orchestrated through HubSpot workflows.
Conversations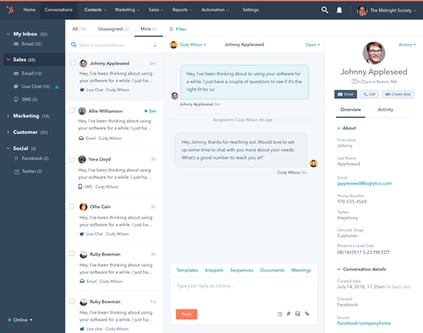 "It's all about one-on-one conversations." Buyers are looking to carry on a conversation across multiple platforms on multiple days. HubSpot took this approach to create Conversations, a multi-channel inbox for you and your team.
The amount of these conversations can be time consuming, and require a lot of valuable hours to respond to prospects. Plus, doing this in a timely manner can require a great deal of manpower. To combat this, HubSpot acquired Motion.ai so bots can easily be integrated on your site to answer simple questions and direct prospects to the right person at the right time.
eCommerce
If you're selling products on your website, or you're looking to, now is the perfect time. HubSpot announced their native integration with Shopify. Through this integration, you're able to track your products and purchases within HubSpot. By doing so, you're able to set up automated workflows based on purchases, lifetime customer value, customer abandonment, and much more.
Not a Shopify user? Not a problem. HubSpot has released eCommerce Bridge, making it simple to set up API's to connect with a multitude of eCommerce platforms.
HubSpot Sales Professional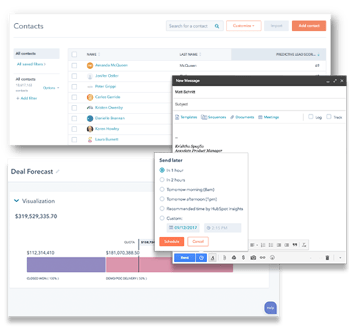 A major change is coming for HubSpot Sales. On November 1, 2017, HubSpot is releasing a new version of HubSpot Sales Professional. This new version is the all-in-one sales toolkit you need to power your sales engine. Within HubSpot Sales Professional, you can create deals and assign them to specific reps, create tasks, and rotate leads for your sales team.
Along with these updates, HubSpot has added Team Permissions, enabling certain people to collaborate on projects. Within these teams, you can run reports based on certain teams and these teams can work together. There's also endless customization options for products and channel partners. To optimize the work you're doing, HubSpot created Send Time Optimization, so your messages reach leads at the right time.
Customer Hub
With improvements to both the marketing and sales platform, HubSpot saw the need for users to see what their customers were up to. A major key at INBOUND was the development of the Customer Hub. Within this hub, there will be case management, a native knowledge base, and reporting and feedback collection.
Have any questions about using HubSpot's new features for your business? Let us know! We geek out on this stuff.