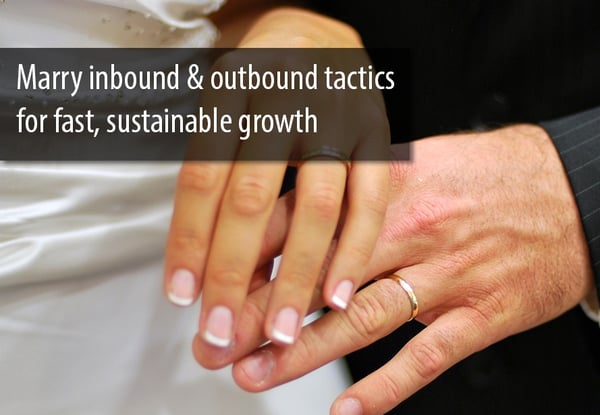 Startup marketing is an exciting, scary rollercoaster ride of high risk and high reward. To be successful, you need fast results but not at the expense of long-term sustainability.
I've learned the hard way that the secret to successful startup marketing is an artful blend of inbound marketing and outbound marketing.
Let's start by defining each:
Inbound Marketing:
The marketing school of thought that focuses on attracting visitors to your website by offering interesting, helpful, or entertaining content.
Most inbound marketing strategies rely on written blog content to draw prospects in and premium content offers such as ebooks, white papers, checklists, and guides, to capture lead information.
Outbound Marketing:
The term used to define more traditional marketing tactics where companies pay to get in front of the customer and pitch their product/service.
Common tactics include outsourced telemarketing, trade shows, radio/television/print advertising, and email blasts to purchased lists.
No one likes being interrupted by ads, called by telemarketers, or blasted with impersonal emails.
In an ideal world, all companies would offer insightful, inspiring, relevant content that makes prospects' and customers' lives better (while much more subtly selling products & services). That said, inbound marketing is a long-term proposition and as much as it pains me to admit it, outbound tactics can be very effective in driving short-term growth.
That's why you need both.
If you're working for the kind of startup that's looking for high short-term growth and long-term viability, read on…
Inbound Marketing: Slow Start, Compounding Rewards
Inbound marketing can take a long time to work. In today's content saturated world, it takes several months (sometimes longer!) of serious commitment and deep customer insights to build an online lead generating machine.
Most startups don't have a lot of time or capital to burn trying to make inbound work, but if you don't build a blog and start building internal links, it will be difficult for your company to remain viable in our increasingly SEO-driven, digital marketplace.
Here, I will defer to an excellent and oft-referenced post on this topic, The Compounding Returns of Content Marketing: The Data Behind Why Persistence Pays Off in Blogging. In it, venture capitalist and blogger, Tomasz Tunguz, lays out the data-driven reason it pays to invest in content early.
In the article, Tunguz says,
Unlike most forms of paid marketing, content marketing has a cumulative and compounding return. Each of the posts of a blog continues to attract traffic from SEO and social channels long after it has been published...the larger a content base, the greater the traffic, because of the sum of the visitors to the older posts."
In other words, each time you write a blog post, you distribute it and it gets some views, but because of your post's SEO value, it continues to accrue views for months and years to come.
Without any additional work on your part, your blog posts will continue to generate traffic and leads on an ongoing basis at no additional cost to you.
Outbound marketing tactics generate faster results, but their cost and maintenance efforts increase proportionally with those results.
Here's a visual I like to use to demonstrate the returns of inbound marketing vs inbound marketing: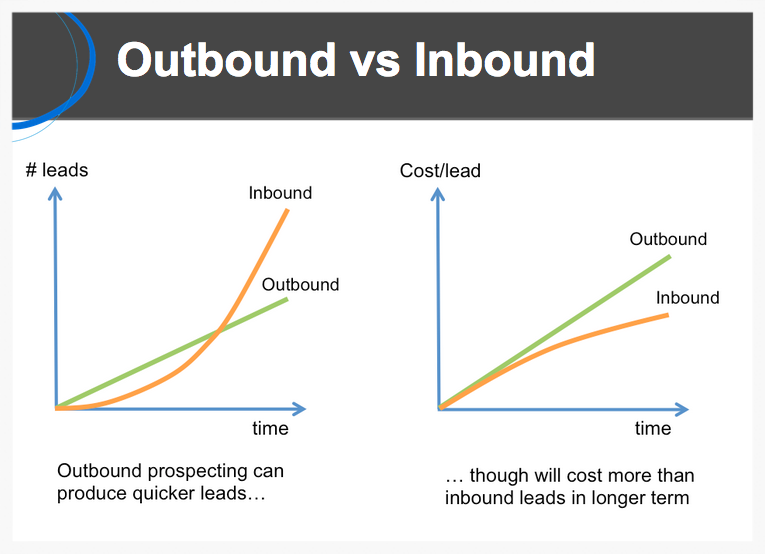 Upon learning this, most entrepreneurs and startup marketers rush to adopt inbound marketing tactics. The sooner you can get started blogging, the better! But beware of this slippery slope...if building a long-term, sustainable lead generation engine wasn't already difficult enough, you also need to generate lots of leads NOW.
The key is balancing both inbound and outbound strategies
Here are a few quick thought-starters if you're trying to balance both:
1. Use paid channels to test audience assumptions
One of the most important elements of any successful inbound marketing strategy is deep audience insight. You can waste a lot of time and 'SEO juice' guessing at what topics your audience cares about.
Use paid advertising channels like Google Ads or social advertising platforms to A/B test topics, messages, and keywords you think will resonate.
Once you've verified your assumptions by driving the statistically significant number of views/clicks, it's less risky to build the winning ideas into your inbound strategy.
2. Establish sales/marketing synchronicity
We're big believers that sales and marketing alignment is key to any business - especially those striving for huge growth.
For those balancing quick-growth outbound marketing with a long-term inbound investment, it's even more critical for outbound touchpoints such as telemarketers, trade show representatives, and sales associates to share customer insights.
A great way to establish sales and marketing alignment from the very beginning is to set up a regular 'FAQ' meeting where the sales team can share key questions they hear from prospects so the marketing team can build prospect and customer concerns into their content strategy.
This discussion helps sales and marketing feel like they're on the same page and lays a strong foundation for ongoing discussions as prospect and customer comments and questions flood in.
3. Be very clear about goals and expectations for both outbound and inbound strategies
The only way to find the right balance between outbound and inbound is to scrupulously measure the success of each tactic and analyze these results across the board on a regular basis. Start by setting SMART goals for each part of your marketing plan and then revisiting success metrics once every week or month.
There are few things as challenging, yet as exciting as building a marketing and sales operation from scratch. If you ever want to talk strategy, let's chat!
If you're more of a reader, here's a collection of inbound marketing resources you might find helpful as you grow your online presence.
Image by Fred Rockwood via flickr, licensed under CC by SA-2.0