Our Insights from HubSpot's State of Marketing 2023

3 min read
May 11, 2023
HubSpot published their 2023 State of Marketing Report this week, discussing the marketing trends we are likely to see throughout the year.
There were quite a few trends that are going to be on every marketer's mind in the coming months.
In 👍 or Out 👎?
Artificial Intelligence = 👍
Short-Form Video = 👍
Social Media = 👍
NFTs = 👎
Metaverse = 👎

Here are some of the topics I found most interesting:
Artificial Intelligence 🤖
You hear the term everywhere. The news talks about it in relation to kid's school work while others are worried about it replacing their jobs.
However, marketers are looking to embrace the technology. HubSpot says:
42% of marketers
increased campaigns per quarter
from 2021 to 2022*
And there is no sign of slowing down.
Marketers are getting overwhelmed and are turning to AI for help for many things like outline generation, video creation, and content creation.
It isn't surprising to see AI at the top of HubSpot's biggest changes to marketing in 2023. As expected, HubSpot has stepped up to support their users with the recent additions of ChatSpot.ai and Content Assistant to the HubSpot platform.
It will be very interesting to see how this technology evolves into our everyday work!
Short-Form Video is Hot! 🔥
It's the most popular and effective media today. Blog posts, case studies, podcasts, and infographics are great ways of attracting customers, but short-form video king.
90% of marketers using short-form video will
increase or maintain investment for 2023*
Video has the highest ROI of any media format right now, and everyone is going to want to start using it - not just B2C brands, it will be important for B2B brands, too. You'll start to see it showing up on LinkedIn, in addition to the standard video channels you think of like Instagram, TikTok, YouTube Shorts, and more.
21% of marketers will use
video for the first time this year*
Continuing it's growth in popularity this year is…TikTok. Although it's most popular with Gen Z, marketers are catching on.
TikTok is the current leader for short-form video and where the majority of the eyes are for video content right now, but it has one major issue - and another one of the major trends in marketing - data privacy.
Data Privacy Ramps Up ⤴️
You'll be hard pressed to find a data privacy conversation that doesn't include TikTok in the U.S. right now. Talks between the U.S. government and TikTok have stoked privacy fears among consumers and brands, which begs the question of how long TikTok will maintain itself as a trending channel?
More and more consumers are becoming aware of how their personal data is used online and are looking for ways to protect it. Luckily for consumers with more regulations now in place (like GDPR, CAN-SPAM, and CASL), they have more control.
86% of marketers say
data privacy changes have impacted
their marketing strategy*
For so long marketers have relied on 3rd-party cookies, which are being phased out, it has a lot of marketers scrambling. HubSpot cites they're turning to using targeted social media ads, collecting more data directly from the customer, Google Topics API, using universal identifiers, and looking at contextual advertising.
If marketers don't handle their customer's privacy concerns properly, they are likely to hear about it publicly like social media.
Social Media for Marketing 📣
When you think about the most popular platforms out there for marketing, what comes to mind?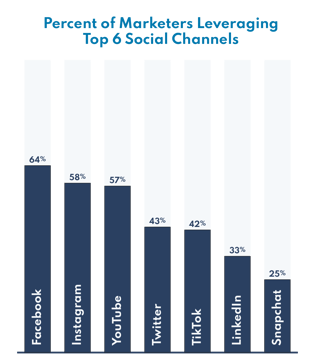 Facebook still reigns supreme when it comes to social media advertising, as the most utilized and has the best ROI, even though you'll have a hard time telling most Millennials and Gen Z-ers that.
Social Media has long been a leader in the digital marketing space, and we know it's a constantly changing landscape. More and more companies are turning to social media for customer service. HubSpot says:
"For nearly a decade, consumers have been evading traditional customer service channels and going straight to a company's social media page in order to get help with a persistent problem."
Depending on the size of your organization, this can mean your marketing (or social) team is pulling double-duty with marketing and customer service. You'll continue to see companies responding publicly with a push for customers to follow up with private messages in order to keep the complaints private and not tarnish the brand publicly.
Summary
These are only some of the topics mentioned in HubSpot's 2023 State of Marketing Report. Download the report for more additional information on other topics like influencer marketing, value-based marketing and the most important KPIs to keep your eye on.
What is really the important take-away from all off this?
Digital marketing is never dull, and doesn't stay stagnant - it keeps evolving and every marketer is going to need to stay on top of the emerging trends.
If you're interested in learning more about how to level-up your marketing campaigns and leverage automation to reduce your manual tasks so you can spend more time on the things that matter, let's connect!
* Source: HubSpot 2023 State of Marketing Report