Gone are the days of disruptive emails, cold calls, and sales funnels — thank goodness! Today, people are changing the way they buy, and it is essential to your small business' success to engage with your clients in meaningful and authentic ways. Every interaction you have with your clients (or potential clients) is an opportunity to show them gratitude.
Small businesses that are excelling at surprise and delight are asking the right questions, getting to know their customers, and providing value for what they need, not just what they want. One way to really engage with your clients (and show gratitude), is by hosting an event. There are very few ways to connect with your customers, investors, and employees that are more valuable than a face-to-face conversation — and events do just that.
A well planned and executed event gives your business a really valuable boost, but a poorly executed one causes irreparable damage. Here are a few tips and tricks for hosting a killer event — one that people remember and leaves them wanting more.
Events Come in All Shapes and Sizes to Meet a Variety of Needs
Connecting with your employees, customers, vendors, and partners at a well-executed event paints a picture that is memorable, and leaves them with all the warm, fuzzy feelings.
As it turns out, the warm fuzzies stick! When you are able to execute a quality event (whether large or small) you connect with current clients and prospects. This leads to your potential clients making buying (or employment, or investing) decisions with an emotional attachment. Really work to connect and network with people by utilizing events as your opportunity for interaction. Before you dive into event planning think about your purpose: what's the end goal?
First, decide on a purpose or goal for your event:
Are you looking for brand visibility?

Are you celebrating a milestone?

Do you want to thank your staff for a job well done?

Do you have a message you're trying to get out?

Are you nurturing your relationships with sales leads?
When you create an event that is memorable, one that puts you in the position of trustworthy friend, folks are more likely to do business with you. Let's be honest, these days we are far more likely to buy on the referral of a trusted friend than because of a targeted ad on Facebook. So, how do you become the trusted friend? How do you create an event to be remembered? Check out our cool planning tips below.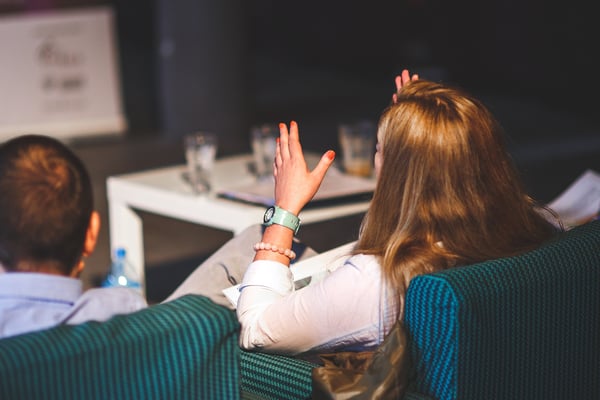 Where to begin planning an event
Start with anything that is non-negotiable, such as speaker logistics or event start and end times. Once you've established the unchangeable aspects of your event — just as with the borders of a puzzle — it is easier to plug in the rest of the details as you see fit.
Consider holidays, and the timelines of your vendors, such as their arrival times and any conflicting events on their end that may pose an issue. Send out your timeline to your team to gather feedback and avoid any unspoken problems that may not have come up otherwise.
What's the timeframe of deliverables given your expectations? How far in advance do you need to have specific tasks completed? Is there a giant chart/process doc/function doc available? What's the end goal? All of these questions are good non-negotiables that you'll want to gather before any more planning occurs. Once you've got those down, it's time to plan your event!
There are 6 important steps you need to complete your A to Z planning process.
1. Choose a Space – often left to the last minute but incredibly important
Think through space specifics and details. If you are able to walk through the space at around the same time as the event, that's ideal. Imagine all the elements that impact the flow and success of your event. Think about what you want the atmosphere and ambiance to feel like for your event.
Typically, good spaces for Denamico events are modern, visually appealing, and clean. We utilize cool locations like Surly Brewing (in St. Paul) to bring an updated and fun approach to an event space.
Beyond all the breweries and restaurant options in the Twin Cities, some event spaces that Denamico and our partners have enjoyed include:
Keep that "cool" factor in play when you're picking your space!
After you've decided on the look and feel of your event space you're also going to want to think about these options when choosing your venue.
Rental fees: does this include set up time or access the day prior to your event?

Attendee count

Technology: AV capabilities/technology/lighting/microphones/Internet access or wifi usage

Lighting: how does the lighting impact the screen?

Furniture/linen cost

Table/chairs set-up

Registration setup

Ease of directions for guests

Security

Parking and valet

Windows

Visibility

Catering & d

rinks

Temperature

Comfort



TIP: Always have some kind of music playing to help ease any transitions, and create the feel of the environment you want.
2. Planning logistics – the questions you need answered
Be thoughtful about your event logistics. This step allows for all your questions to be answered and if they aren't, consider another location. Gross bathrooms are a real downer, and no one wants to deal with parking six blocks away. You'll want to have elements of surprise and delight in all your details, so here's a few additional logistics to consider when choosing a location.
Lighting at time of the event

What kind of signage is needed for the event?

Are there exclusive caterers?

What are the choices, availability, cost per head for cocktails, heavy appetizers, etc.?
Food and beverage minimums?

Bartender charges?

Server charges/service fees?

How early is catering able to arrive at the venue for setup on the day of the event?

What is the bathroom access like?

Will you need to provide extra amenities to make the room nicer?

What is the cleanliness level? (poorly kept restrooms reflect poorly managed space)

What are the number of stalls vs. number of guests?

Is there a discount for payment by check or early payment?
TIP: Whole Foods is a tasty, easy, healthy option for light catering needs. You only have to order 10 days in advance and they have great, affordable coffee and muffins (always check to be sure creamer, sugar, cups, and stirrers are included). Invest in large warehouse grocery stores like Costco for water bottles, bottled beverages, napkins, plates, cutlery, etc., and think about where you want to get your food from if you're choosing to not use a caterer (ie. fruit from Byerly's or Cub Grocery Store).

3. Team – who is on your crew and what responsibilities will they have?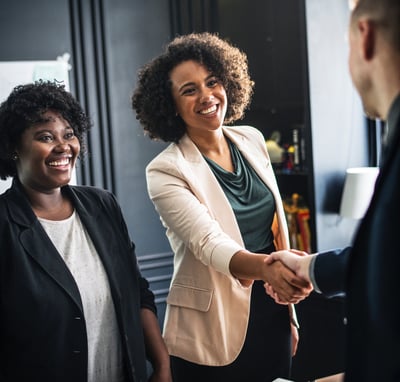 While your event manager is overseeing the event, have your team members tend to the needs of guests, whether that is running coat check, directing guests to their seats, and helping with any other information needed.
Have your presenters focus on the success and strength of the beginning, middle, and end of your event. Ask yourself, who is leading the event and are they able to lead well while being able to close the party in a timely manner? Here are a few tips for delegating tasks to your team.
Explain what your employees or team members are being asked to do

Describe how you will evaluate their performance

Grant authority to your team members that are needed to complete the task

Confirm that your team members understand and agree to the task you have given them

Establish a reward system to encourage high performance

Check on your team's work, but don't micromanage

Remain available to help fix any issues that come up
You're not the only one capable of walking the event floor to make sure everything is in order. Assign other members of your team to overlook specific areas to make sure every need is attended to
TIP: It's one thing to discuss the event with your team in an abstract way; it's another to show them exactly what happens.
4. Technology – don't short out when you need tech the most
We're living in the digital world, so an event without technology is almost archaic in nature. These days there are some essential elements to consider. There are not many things that trip up a good flow like technical issues. You should always double-check technology expectations and agreements! As you think about your event, ask these tech questions to understand what you may need:
What format is the event, and what technology needs arise with it?

Who's presenting?

Do computers need to be hooked up?

What about fonts, do they match?

Will there be a "confidence monitor," and how is it set up?

Will the event be recorded?

Make sure everything has extra batteries/power cords.

Have back-ups of everything, in various forms.

Always make sure your videos are embedded into the deck vs. pulling from the web.
TIP: Consider making a Presentation Prep Kit. Include dongles, power cords, a flash drive with all your elements on it, and a remote with extra batteries, in case of malfunction at the last minute.
5. Audience – find your people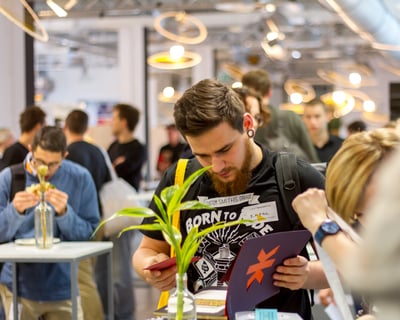 Your job as a host is to make this as enjoyable an experience as you are able. Guests come in all shapes and sizes, and many are ready to hear what you have to say. It's not that you can't challenge your guests through their experience, but remember that they are giving you their time. Ultimately, honor that time given to you, and show up ready to give it your all, in respect of that time. When trying to find who your audience is going to be, ask yourself a few questions first.
Who are these people?

What do they expect of the moment?

What do they expect of you?

What do they know about you?

What do you want them to know?

How do you want them to think/feel when the event is done?
TIP: If you're planning on being the speaker or keynote at your small business event, make sure that you understand how to present the material so that you look impactful as a thought-leader in your community.
6. Execution – give life to your event
After your event is planned — it's time to bring to life all your hard work! This is when you are really able to show off your small business. Whether it's in a community building or a historic hotel ballroom, your event should include some personality — don't let it be dull. If you think your topic may bore people, jazz it up a bit through how you communicate to those attending.
During your event, make sure that you have all the necessary speaking notes and slides ready to go. Let the slideshow be the backdrop to your presentation. One thing to keep in mind, is that you'll want to be prepared to adapt at moments notice. If your group ends up being smaller than 15 people try to make your presentation more of a conversation rather than lecture — that way you'll be able to interact more with those attending your event.
TIP: Even if there are hiccups along the way, don't fret! What goes on behind the scene is just that, don't let it spill over into your event for guests to see.
The Wrap Up – Your Party is Over, Now What?
After your event or party, think of how to thank your guests for attending. Build some marketing material before your event — that you are able to utilize afterwards. Send out an email, thank you letters, or a newsletter highlighting what happened at the event. Beyond that write up a blog post about what happened and the key takeaways. That way you generate conversation long after the event lights shut off.
Need help with marketing for a trade show or an event? Denamico has your back! Schedule a meeting with our amazing team today, and you'll see how we help generate growth for your small business.