The Inbound Marketing Methodology: Stage 1, Attract
3 min read
August 25, 2016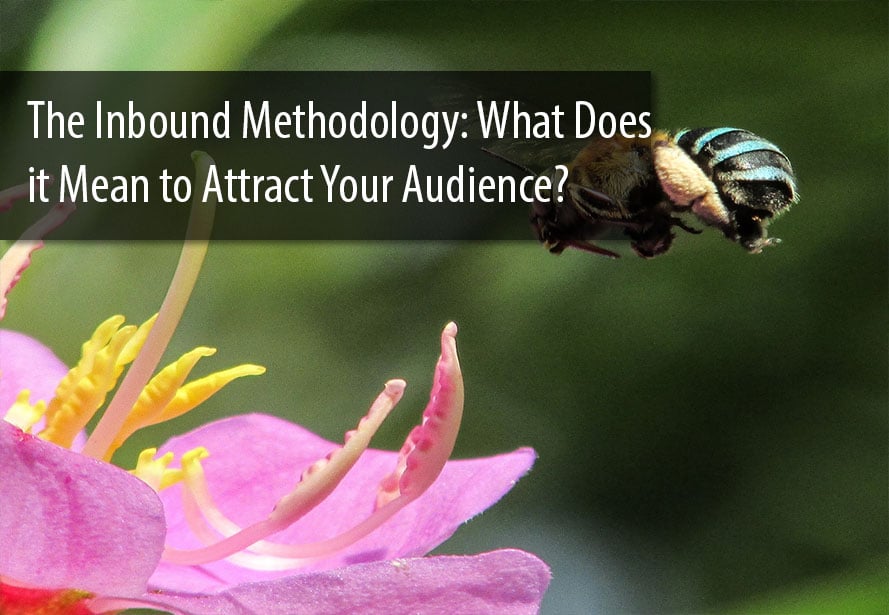 THE INBOUND MARKETING METHODOLOGY: STAGE 1, ATTRACT
In our post "The Inbound Methodology Explained in One Image" we defined inbound marketing, showed how it differs from traditional marketing, and explained the four key components of the inbound methodology: attract, convert, close, and delight.
Understanding the elements of the inbound methodology is essential for creating and executing an effective inbound strategy for your business. This post digs deeper into the first stage: Attract.
The Attract Stage of the Inbound Methodology
The attract stage is all about bringing new visitors to your website. You won't get anywhere with your inbound marketing strategy until you start being found by your potential customers.
To launch a successful inbound marketing campaign, you have to have information that people want and make sure that they find it.
And the secret to getting found online is to create great content that draws people to you. As more and more people find and benefit from your content, your online presence begins to grow.
There are three major tools of the attract stage: keywords, blogging, and social media sites.
Keywords
To get your customers to come to you, you need to talk about what matters to them. What are their needs and concerns? What problems are they trying to solve?
These are their pain points. If you have the information they need to make their problems and concerns go away, they'll be clamoring to get to your website.
Once you've identified the pain points of your target audience, you turn them into keywords and optimize your website for them. Your keywords should include:
The name of your products
The types of services you offer
Questions that your customers and prospects frequently ask
The benefits and features of your products and services
This is when buyer personas become crucial to have. In order to figure out what keywords your potential customer is plugging into a search engine, you have to be deeply in touch with how that person thinks.
Once you've got your keywords listed out, you're ready to write.
Blogging
Your blog is where you establish your brand authority in your industry. A successful blogging strategy gives you a crucial advantage over your competitors and will help you rank higher in Google search.
In your blog, you take the keywords you've generated for your target audience and build posts around them. Ideally, you should have at least one dedicated post optimized for each keyword you want to rank for.
The best way to build credibility with your audience and with Google is to create high-quality posts and publish them to your site on a regular basis. This means your post topics need to be well planned out as well as strategically scheduled.
Once you've started blogging, it's time to start promoting your content.
Social Media Sites
Social media sites are powerful tools for making your content visible. If your target audience is active on social media, then sharing your blog posts on Twitter and other major networks is one of the best ways you can promote them.
Getting your content liked and reposted or tweeted is a great way to give your brand credibility and draw potential customers to your website.
Monitoring conversations on these sites is also useful for helping you generate more keywords and more content that your audience will find valuable.
Best Practices of the Attract Phase
Think like your consumer. You need to know who your customer is, where he is looking for information online, and what his needs and concerns are. Your customer will only find you if you're available in the right place with the right message at the right time.
Keep at it. Building an online presence takes time, dedication, and hard work. You won't see overnight results. But if you're committed to putting out great content, optimizing for the keywords your customer is searching for, and publishing on channels where your customer is likely to find you, then your results will build overtime.
Make your marketing about your consumer. Your focus should not be on selling; instead, think about how you can solve people's problems and help them achieve their goals. Focus on what you can do for your consumer, not what they can do for you. If you do that, then you'll be creating marketing content that they love and want to read.
Attracting your target audience to your website is vital for an effective inbound strategy. If you aren't using content to get found online, then you won't be able convince anyone to buy your product or service. By mastering the attract stage, you'll set yourself up for long-term inbound success. Click here to read our next post in this series, which covers the second stage of the methodology: Convert.
Image by Michael MK Khorvia Flickr, licensed under CC BY 2.0.
Editor's Note: This post was originally published in August 2015 and has been updated for accuracy and comprehensiveness.