How to Improve Customer Experience with Voice of the Customer Optimization
5 min read
December 3, 2019

How to use voice of the customer optimization to improve customer experience
Now more than ever, companies need to understand the importance of being customer-centric in order to retain existing customers. Successful companies understand their customers and know how to leverage the feedback received to continually improve customer experience (CX).
The key to being customer-centric is engaging, listening, and acting upon the feedback you receive from your customers. You want to make sure that your organization is consistently utilizing all three from start to finish. Don't just engage and listen to the feedback your customers are providing, this is valuable information that you don't want to go to waste and can be very valuable in your customer follow-up.
What is Voice of the Customer (VoC)?
According to HubSpot, voice of the customer (VoC) is the process of listening to customers about their experience using a product or service, sharing results within your organization, and interpreting feedback to improve customer experience and retention.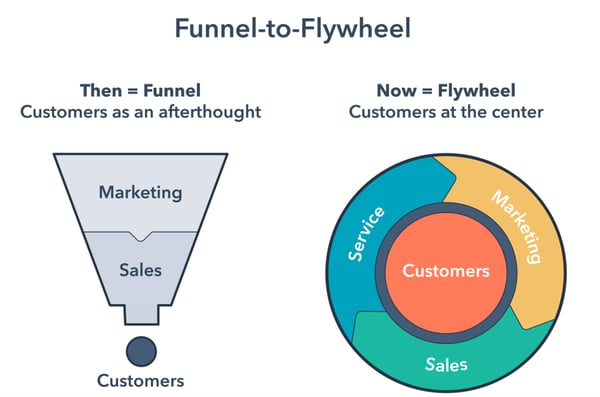 HubSpot Academy Education Manager and host of Agency Unfiltered, Kevin Dunn, spoke during our latest Twin Cities HubSpot User Group: Voice of the Customer Optimization. During this meet-up, we learned why creating a voice of the customer program is critical for growth-minded businesses.
A great — and surprising — voice of the customer example Kevin shared was Domino's Pizza. Back in 2009, Domino's was perceived as the worst-tasting pizza in the U.S. and they knew changes needed to be made if they wanted to see any type of improvement. They had a new CEO who saw an opportunity to change the perception of Domino's customer experience. His plan for success was based around four key components:
Spotlighting feedback,
Training staff to have autonomy,
Improving the whole Domino's experience, and
Monitoring key metrics for improvement
Today, Domino's has overtaken Pizza Hut in market share with 14,000 locations and a completely different customer experience from 10 years ago. How was this done exactly? Voice of the customer Optimization.
By sourcing more feedback from your customers, improving survey response rates, and strategically analyzing feedback you receive, you will gain a better understanding of what needs to be done for your company to improve CX and achieve growth.
Source more feedback from your customers
Today, most people are sick of filling out surveys and providing feedback. Taking the time to answer a survey does not seem rewarding because most respondents think it goes unheard. To help organizations increase their feedback quality and response rate HubSpot has three primary survey types that align with most organizations' goals and objectives.
Customer Satisfaction (CSAT) Surveys
CSAT surveys involve asking for customer feedback around a very specific piece of the customer service or product. For example: how smooth was the online checkout process for your customer?
Customer Effort Score (CES) Surveys
In a CES survey, you identify how to improve your support or customer service experience. How easy did you make it for the customer to reach your objective?
Net Promoter Score (NPS) Surveys
NPS surveys involve asking each of your customers how they would rate their experience with your company on a scale of 0-10. How likely is the customer to refer your product or services to someone else?
To calculate your NPS, subtract the % of detractors (those who gave you a score of 0-6) from the % of promoters (those who gave you a 9-10).
Improve survey response rates
Not only should your company strive to increase the number of responses you receive from a survey, the quality of the responses is also important.
Personalize the Survey
A great way to start out a survey is to insert a personalization token, when applicable, to make your request more personal and welcoming. Using a personalization token like "Hi so much," helps personalize the survey and make the respondent feel like this isn't just another generic survey request.
Another proven method is to send the survey from a real person to improve email deliverability and open rates. You can A/B test the email subject lines as well so you can see which one performs best.
Lastly, you don't want to automatically eliminate any respondents, make sure the survey is accessible to all by including mobile capability and providing it in multiple languages if necessary.
Simplicity
Open with a multiple choice question. Giving the customer the option to easily select their answer has a higher response rate than asking an open-ended question. Surveys should be quick and simple, so be sure to shorten the survey to only include what's most important. Make sure that the content in your survey is easy to read, understand, and answer for everyone you send it to.
Preparation
Let your customers know ahead of time that they will be receiving a survey from you and what it's all about. At the same time, share with them the purpose of the survey and what content will be involved.
You should always be considerate of their time. Determine how much time you are asking of them by taking the survey yourself to see how long it may take, and then communicate that.
Lastly, before sending the email to the customer be sure to test the email by sending it to yourself, or a coworker, to make sure everything is working correctly.
Strategically analyze and act upon feedback
Feedback + Theme / Type / Frequency
An easy way to figure out next steps with the feedback you receive, and what the order of importance should be, is to break the feedback down to the theme, type, and frequency.
Say you receive numerous feedback responses that are focused around the customer not being happy with the speed of the customer service they received. This can be categorized under the following example:
Feedback: Requesting better customer service
Feedback Theme: Slow Response Time
Feedback Type: Customer Service
Feedback Frequency: # of times your organization has received this feedback type
By listing out the feedback you receive, it will help you prioritize what actions you need to take to improve your customers' experience with your organization.
Follow up with customers
After you have analyzed and organized your feedback, it's time to follow up with the customers who provided input. Creating an email template and adding a personalization token or sending a handwritten note gives the follow-up a touch that gains the customer's attention and appreciation.
You also don't want your customers to think you are hiding any information from them. Publishing reports with your findings shows the good, and sometimes bad, feedback without being biased. Phone calls also show the customer that you have their full attention and are dedicated to creating the best possible customer experience.
Why should I implement VoC optimization?
If optimized correctly, a voice of the customer implementation will provide your business with everything you need to know to understand your customers and provide a great customer experience. Whether it's behaviors, problems, complaints, or questions all of this information will be available in the feedback you receive.
Take the steps to source more feedback from your customers, improve your survey response rates, and strategically analyze the feedback you receive. This will help you become more customer-centric, retain your existing customers, and set you up for more successful customer engagements in the future.
---
Interested in attending the next Twin Cities HubSpot User Group or hearing about future events?