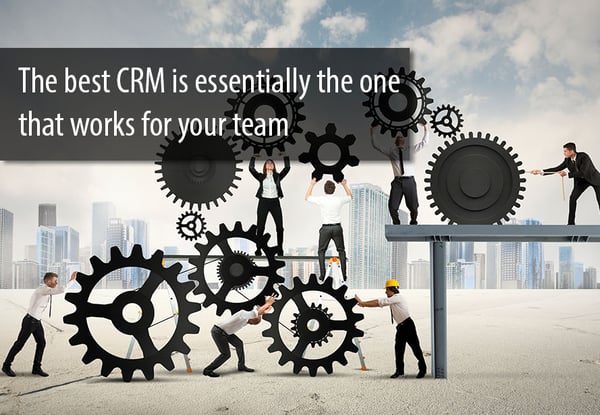 Is that the right question?
If you work in, or manage sales, you already know that the best CRM is essentially the one that works. The sales software that helps you prospect better, manage your pipeline more efficiently, communicate more easily with your leads and customers, and assist you in getting more sales as efficiently and effectively as possible.
If you're still not sure about why to use a CRM, you should first read this. That post includes some of the data about how using a CRM improves the sales process, including how it can increase revenue by 41% per sales rep.
On the other hand, if you're already convinced you need a CRM, you just need help figuring out which is the best CRM for you, then this post is for you.
How to choose the best CRM for YOU
The first step in choosing a CRM, is to identify the stakeholders who should be part of the selection committee. It might not be practical to involve the entire sales team, but at a minimum, one sales manager and one sales rep should be involved.
Since the CRM needs to integrate with your marketing automation software, a marketing leader should also be on this committee. And last but not least, you would want to include your IT Manager or CTO, as they will be the person who helps with installation, training, getting new users set up on the platform, and potentially be responsible for any migrations from your old software and integrations with other systems.
---
This committee can then identify the goals of the new CRM. What do they each need it to do for them to do their job better?
To assist you in identifying your goals, we thought it would be helpful to list some of the factors you may want to consider:
1. Compliance
Some industries, financial services for example, have strict industry requirements on client information. Depending upon what these are, certain CRMs might help in meeting these requirements. Or it could also take some CRMs out of the running because the compliance requirements can't be met.
If you are in an industry with compliance regulations, you would also want to include someone who understands the regulations on your selection committee.
2. Analytics & Reporting
Most CRMs will have a dashboard with KPIs such as Calls Placed, Emails Sent, Deals in Progress, Deals Won, Deals Lost, etc. It's important to compare this to how your sales team is evaluated so that you are able to get the information you need from the new CRM.
Likewise with reporting, especially for commissions, it's important to make sure that the CRM can be set up to give you the data you need. The more complex your sales structure is, and consequently the reporting structure, the more sophisticated the CRM will need to be to meet those requirements.
3. Integration with Your Other Systems
Most CRMs can be integrated with various marketing automation software, so if you ask a vendor if their product integrates with your other software, most often the answer will be yes. However, you will be doing yourself a favor if you dig a bit deeper into the details of the integration.
Questions you'd want to ask include:
Is the integration already built and included, or is there an additional cost to build it?
How long does the integration take?
Some systems could take up to 24 hours to sync with the marketing automation software. If you have a team that is relying on sharing up-to-date info, that could complicate things substantially.
4. Price
Although it's helpful to have a ballpark budget in mind before you start your research, sometimes you have no idea what something will cost until you dig in and look at the options.
Most CRMs today are cloud based, which is great because they can be accessed from any of your devices, and are priced according to the number of users or seats. Prices vary substantially though and the cost of the software is not your only investment. Most often you will need to add in implementation and training costs.
5. Implementation
Questions to ask about implementation include how long it lasts and will the whole system be implemented at once, or will it be done in phases?
Will the vendor be managing the implementation, and if so, what is the cost for that?
Who will be trained during the implementation? Best practices recommend that one person (or more) within your organization gets trained as a 'superuser' who is the 'go-to' person for the rest of the team.
It's often helpful to also read a few reviews from users of the CRMs you've shortlisted. A good third party resource for reviews of software is G2 Crowd and here's their 2016 report on CRMs.
6. Training
Training for users will need to be part of the implementation process, but you'll also want to make sure you account for ongoing training for new users in the future. As new sales people are hired, CRM training should be part of their onboarding process.
What is the cost of the training? Are there online videos which you can access at no additional cost, or is the training done via webinar with the whole group together? Videos are ideal because they're easy for future employees to access.
The Best CRM
The best CRM is the one that gets used by your team, helps them sell more in less time, and retain existing customers longer. By having the right people from your company involved in the CRM selection, and knowing what questions to ask in the process, you will be better able to identify the CRM which is best for you.