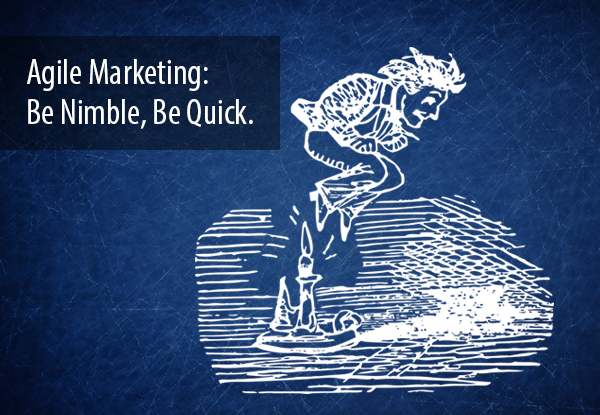 Don't try, just do. This is a mantra in the world of B2B tech startups.
Why? When you're looking to carve out market share in a competitive landscape, or create a whole new category, you have no time to wait on fully-baked long term strategic plans based on massive data-driven analysis. If you do, your business will be over before it had a chance to start, because someone more responsive (namely "Jack be nimble, Jack be quick") will enter and grab hold of the market before you.
If you follow what's going on in the world of marketing, you know one of the most talked about trends is agile marketing – the application of Agile and Lean software development methodologies to modern marketing departments.
In support of this key trend, a recent article in Inc. discusses why marketers are moving away from fixed, linear approaches to marketing strategy and execution, toward adoption of agile marketing frameworks in order to boost business success.
What Is Agile Marketing?
If you are unclear as to what Agile marketing is, the Agile marketing manifesto is the place to start. It prescribes iterative planning, frequent execution and measurement, and improving upon what's learned - all in condensed time frames. It allows businesses to deliver greater customer value faster. By empowering people (not process) to work in cross-functional, collaborative teams, it puts the customer at the forefront of the organization.
To take it a step further and help you understand how to put Agile theory into practice, Scott Brinker, author of the Chief Marketing Technologist blog, offers a nice explanation on Agile Marketing: Adapting Software Development Methodologies to Marketing Management in 20 slides and a 5 minute video. And Jim Ewel, author of the Agile Marketing blog, discusses Agile marketing principles and what it means to be an Agile marketer.
Does this mean you no longer engage in strategic planning and marketing research? No. You still need a marketing plan, but what that plan looks like in a contemporary marketing landscape is a little different than the static plans of old. A recent article in Entrepreneur synthesized what an Agile marketing plan of today looks like.
Why Go Agile?
So...why now? Agile and similar software development processes (Lean, Scrum, Kanban) have been around for years.
The simple fact is, technology is the foundation of nearly all marketing activities - from building web sites and landing pages, to A/B testing, to content marketing, to SEO tactics, to social media engagement, to lead generation and inbound marketing, to video production, etc.
Jake Sorofman, Research Director at Gartner, wrote a blog post on why Agile Isn't Just for Geeks Anymore that aptly sums up how this approach to the implementation of digital marketing strategies makes perfect sense. Why? Modern marketing departments are showing similarities to software development more and more every day.
With the convergence of marketing and technology and the rapid changes it brings in everything from tools implemented to talent hired, the swing toward adoption of Agile and similar methods is no coincidence.
We're The Exception.
Don't think this approach pertains to your business? Do you think your marketing organization is too large? Or business model too complex? Or customer target too complicated to apply Agile marketing techniques?
An interview - conducted by Ashley Friedlein of Econsultancy, with Ben Edwards, VP, Global Communications & Digital Marketing at IBM - demonstrates that even a behemoth like IBM can successfully transform from a traditional marketing model to Agile practices in its marketing operations. When asked what he's learned from going Agile, Edwards responded: "...build the right environment, find great talent, unblock the teams, give them what they need, clarify where they're going and how they are going to measure progress and let them at it."
The transcript of this insightful interview is a fantastic example of how a large-scale B2B company (not a startup!) has overcome the challenge of making a cultural shift in their marketing practices.
If IBM can do it, so can you. Regardless of your industry or function, the principles of Agile apply.
Survey Says...
Recently, marketing strategy consultancy CMG Partners released its sixth-annual CMO's Agenda, "The Agile Advantage," a qualitative survey assessing the roles and responsibilities of the Chief Marketing Officer. Jennifer Rooney, CMO Network Editor at Forbes, mentioned the survey results in her blog post Applying Agile Methodology to Marketing Can Pay Dividends: Survey:
Business Need: Get To Market Faster → 93% said adopting Agile helped them to improve speed to market.
Business Need: Be More Productive → 87% said adopting Agile made their teams more productive.
Business Need: Identify and Prioritize High-Impact Activities Faster → 80% said adopting Agile led to an enhanced prioritization of the things that matter.
Business Need: Adapt and Respond Faster → 93% said adopting Agile helped them switch gears more quickly and effectively.
Business Need: Deliver Customer-Centric Outcomes → 80% said adopting Agile helped them deliver a better, more relevant end-product.
Can Your Business Go Agile?
At the end of the day, going Agile is about a willingness to think and do things differently. It's about a cultural change and shared vision with a focus on action. It's not about trying, it's about DOING.
How can your business think differently? What can you do differently?
Collapse and iterate planning cycles.
Break down work into smaller pieces.
Collaborate at each stage of execution.
Focus on short-term (days, weeks) vs long-term (months,quarters) when measuring performance.
Pare back process in favor of continuous progress.
Blur the boundaries of functional silos.
Embrace uncertainty. Let it be an opportunity to experiment, innovate and respond.
What can your business gain from this mind shift?
Increased productivity as a result of breaking down projects into smaller, short-term units;
Ability to respond to changing priorities quickly as a result of iterative execution;
Increased transparency as a result of team collaboration; and,
Ability to re-prioritize marketing initiatives as a result of continuous performance measurement.
In a digital marketing world, the way in which companies find, engage and acquire new customers is different than traditional marketing methods of the past. And it's constantly changing. In order to stay ahead, or merely keep up, organizations can't use antiquated techniques in this fast-paced world of evolving markets. Adapt and change. Or fail to compete and watch others pass you by.
Looking for more information on Agile marketing? Here are just a few of many great resources: