How to Conduct a Sales & Marketing Tech Stack Audit
Given that the marketing technology landscape has more than 11,000 tools for frontline teams, it's not surprising that people can feel overwhelmed with the software meant to make their lives easier.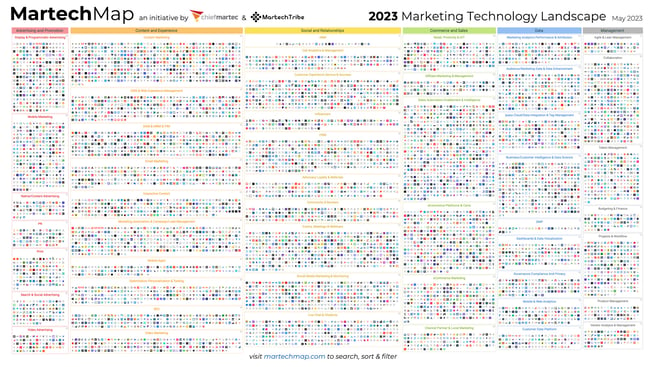 Whether you feel the pressure of a mounting tech stack, or you have a handle on it and need to document everything your teams are using, a tech stack audit is a good place to start.
In this post, we'll walk you through how to complete a comprehensive internal tech stack audit that will save you and your business time and money in the long run. But before we begin, let's start with the basics.
What is a Tech Stack?
Here at Denamico, we define a technology stack, or tech stack for short, as:
"A group of technology-based tools that help businesses to operate effectively, market efficiently, and enable sales and service teams to provide an optimal customer experience."
From your CRM to your social media and sales enablement tools, the sales, marketing, and customer service platforms that your teams use to conduct business all fall within your tech stack.
These tools can increase customer experience and improve operational efficiencies. Sometimes, however, it is hard to keep track of all of the systems in place.
Benefits of a Tech Stack Audit
If your tech stack is the software you use, why in the world would you want to audit it?
Well, the simple answer is bloat.
As your business grows and you begin to take on projects that challenge your business and your team, new tools will be needed to support that growth.
This can take the form of a project management software utilized by the design team during an extended project or a new digital phone system that was rolled out to the sales team during a large sales initiative.
Neither of these systems are issues. The PM tool may have saved your design team multiple hours a week in meetings or scrums, and the phone system may have allowed a sales team member to double their daily call volume.
But, what happens after these projects are complete or the initiative is over and neither of these tools are in use anymore?
This is how bloat is formed, and where a tech stack audit can come in handy. According to HubSpot a tech stack audit can help:
Save employees time
Save money on apps
Consolidate apps
Maintain a single source-of-truth for data
But, how do you go about doing a tech stack audit?
How to Start a Tech Stack Audit
When starting your tech stack audit, the most important thing to keep in mind is that you cannot do it alone. You should involve a team of stakeholders or key players in your organization who will take ownership of each department.
From there, you will need to task each of those key players with discovering what software their departments are using and how the tech is integrated with one another (or not).
We recommend creating a spreadsheet template using the headers below, have each key player fill out their section and list out the software used (i.e. CRM, ERP, Invoicing, Pipeline Management, Project Management).
Suggested Headers:
Category
Software / App / Tool Name
Number of Users
Annual Cost
Department(s)
How it's Used Currently
Number of Integrations
Integrated Systems / Apps
Internal Owner
Example Audit: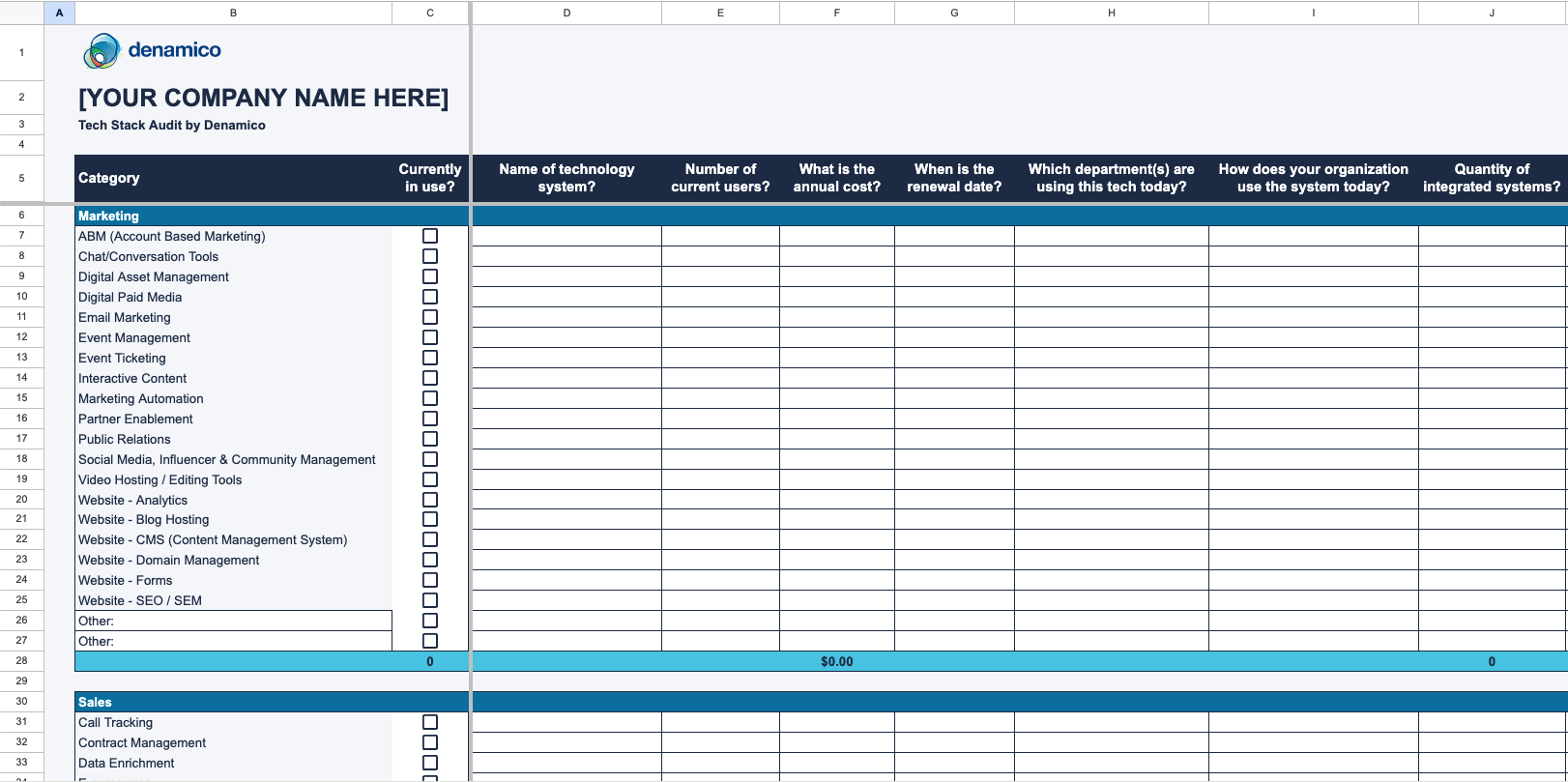 When determining the number of integrations, consider one-to-one integrations as well as one-to-many, such as social media channels integrated with the HubSpot CRM Platform.
The point is to determine whether the software is used in a silo (meaning on its own with no connections) or integrated with other systems and sharing data and reporting.
Now that you've created your spreadsheet, you can dial in and really see what software your organization is using, if you have redundant systems, or if there are any gaps where you need to identify new solutions.
What You Can Do with a Tech Stack Audit
Once you've completed an audit, the real fun begins - time to analyze!
You may have uncovered that the old project management software that your design team was using is still being paid for or noticed that you are still paying for the phone system that only a few in the sales team are holding on to.
And you keep digging deeper.
Take a look at each category and take note of categories with multiple tools in place.
Start another tracking sheet that lists each system (software / app / tool) and mark which departments are using each system. Then note where value can be increased and future state recommendations.
Example Analysis: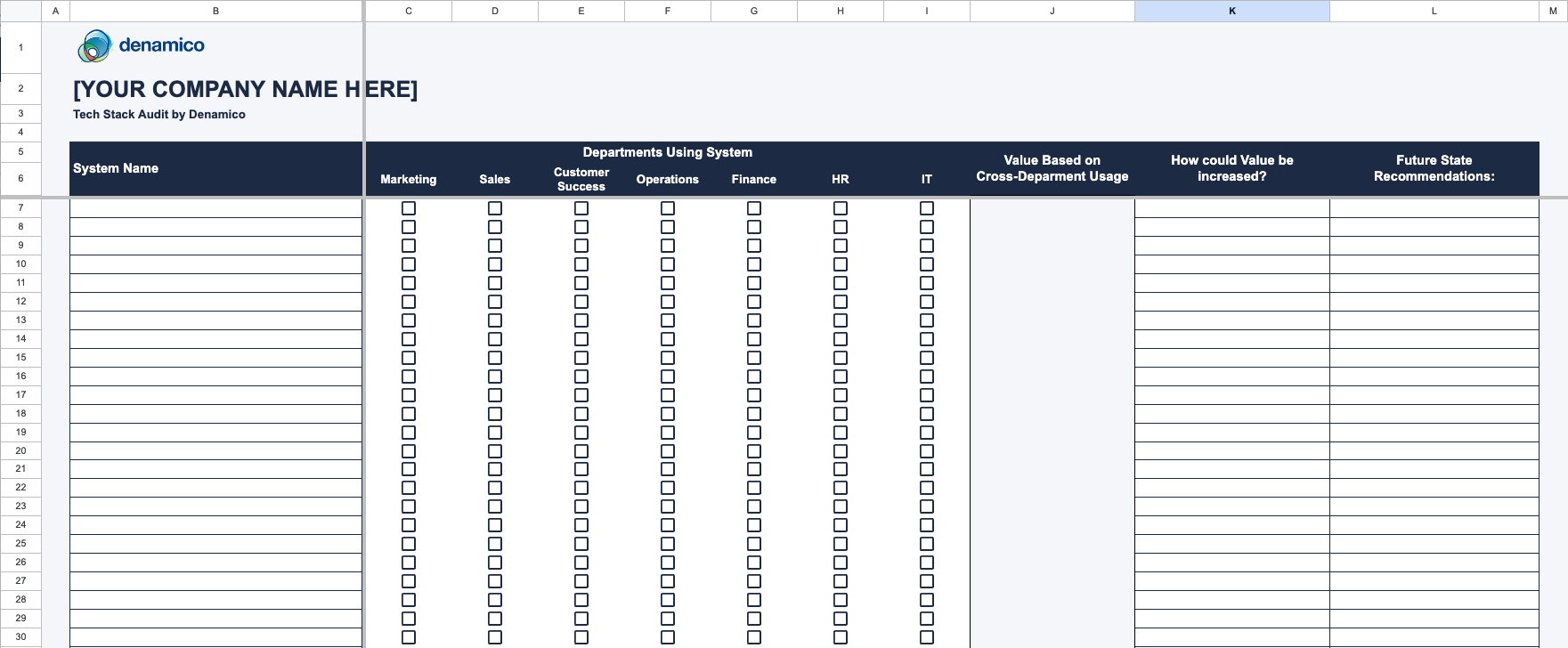 Ask yourself, is there a reason multiple tools are being used? Is it due to a lack of training, employee turnover, on newer software being implemented? How can the systems we're using bring more value to our organization, or is it time to cut ties?
Then look at your integrated versus non-integrated software. Is there a way to connect any software to each other to create efficiencies in operations or to improve reporting?
Bonus: A Snapshot of Your Tech Stack
Our tech stack audit template includes an overview tab with a snapshot of your tech stack by department and value with a place to add internal notes.
Tech Stack Audit Overview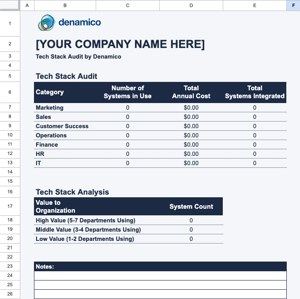 While the process of completing a tech stack audit can seem cumbersome, the resulting data allows you to take the next step in terms of mapping the current state of your systems, including processes in place and how data is shared between the systems.
Auditing your tech stack is a crucial first step in evaluating if your systems are enhancing customer experience and employee experience alike.
And if you still feel overwhelmed with your tech stack, bring in an outside perspective to help you map out your current and ideal state or leverage an online assessment, like RevOpsScore.com to see where you can increase effectiveness and efficiency across 8 impact areas and 8 technology areas.
Editor's note: This post was originally published in August 2022 and has been updated for comprehensiveness.