Inbound marketing is all about generating new leads for your business online, right? Well, not entirely. The inbound methodology also includes delighting and retaining existing customers.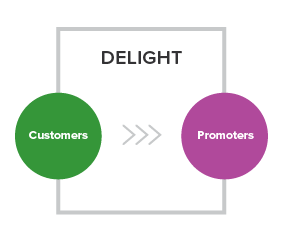 Why is the delight stage of inbound marketing important?
Once you've secured a new customer or client, the process of inbound marketing comes full circle. You should treat customers with the same level of respect as new prospects and leads.
Existing customers provide predictable income (if your product or service is on a subscription model) and excellent opportunities to provide additional services. At the same time, the delight stage helps you nurture customers into promoters and advocates for your brand.
Who, then, is responsible for setting up campaigns to connect and engage with customers? Is it a function of marketing or sales?
This is where the lines blur a bit. But the obvious answer is that every department in your business should be involved. Just as you tap the sales team, customer service team, C-level executives, and others to generate ideas for your content and inbound marketing efforts, you should rely on every department to do their part to delight customers.
Some of the following suggestions are directly tied to marketing automation, content marketing, email marketing, and social media marketing (which are all critical components of a successful inbound marketing strategy), while other are simply solid business best practices.
---
Actionable Ways to Delight Customers
User-Generated Content
Everyone is a content creator these days. Smartphones have put the ability to create written, audio, and video content on the fly. Additionally, social media platforms provide channels for people to upload, share, and promote their content easily and efficiently.
Much of that content features products or services (directly or indirectly) that businesses like yours supply.
If you're not interacting with user-generated content through social media, you're missing out on opportunities to highlight what makes the products or services you provide special to actual customers.
Even better, host a channel specifically for customers to upload their own content. And if you industry and business are really tied to user-generated content, provide an area to feature the content directly on your website.
Here's a great example of customer generated content from Sweets Kendamas, a custom kendama manufacturer and retailer out of Bloomington, MN. Sweets Kendamas encourages customers to send in videos featuring their best tricks as part of the Homegrown Kendama Team, which has grown a global following. The corresponding videos have created influencers for the industry and are hosted on Sweets Kendama's blog and YouTube channel.
Review Campaigns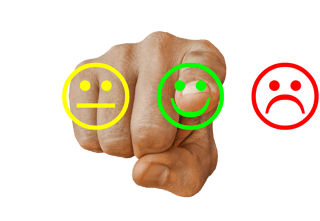 Here's where you can tap your marketing automation specialists. Email workflows are great for reaching out to existing customers. Why not make it super simple for them to provide a review of your business online?
Third-party review platforms provide substantial social proof. In many cases, these reviews carry more weight than testimonials on your site or even case studies. Why? Because they're hands-off from a business perspective. Individuals have the right to post the good and the bad.
How, exactly, does this delight customers?
Well, it's all in the messaging. You don't want to reward anyone for giving a review. Instead, explain how existing customers are part of your mission to expand quality services and products.
Sample messaging may sound something like this:
"Hey [first name],
You've been a valued customer of [your business] for some time now.
Thank you for being a part of our team.
We feel your honest review on third-party sites would help others decide if our [service or product] is right for them. At the same time, we monitor review sites to make sure we're living up to our promises! Your feedback is appreciated.
Here are some quick links to help you leave a review:"
[links to appropriate third-party sites such as Facebook, Yelp, Google, etc.]
With the right messaging in place, reviews can feel empowering. Customers are eager to speak up for brands they want to associate with.
---
---
Follow Us Campaigns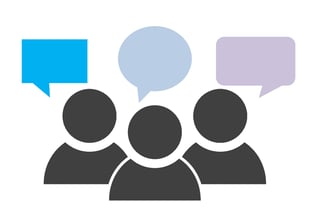 Similar to review campaigns, you can reach out to your database of customers using email workflows. A follow us campaign exists to boost engagement on your social channels.
Assuming you have active social media accounts and stellar content being pushed out through those platforms, nudging people to that content on social gives them an opportunity to join a conversation with people of similar interests.
While you may be tempted to combine a review campaign with a follow us campaign in a single email, we recommend that you don't. Each campaign should have its own singular goal with one call to action.
Customer Service Content
Customer service teams and account reps field a lot of questions on a daily basis. While the human interaction is necessary, having built out content ready to send after the connection is a great way to delight.
The content could be traditional, such as an ebook or whitepaper, but video content is hot these days. To truly delight customers, send them a quick one-off follow-up video. Or provide them with a pre-made video based on common FAQs customers tend to ask. To really up your game, these videos can include a CTA to more educational resources that feature additional tools or services.
HubSpot breaks down the delight stage as having three primary functions, all of which equate to great customer service:
Answer questions
Solve problems
Help customers reach their goals
Your business may already be doing these functions on a daily basis. But it's vital to assess if you're delighting your customers at the right time with the right content in a format your customers want to consume, just as you would in your lead generation and lead nurturing efforts.
Surveys
One great way to find out what your customers want is to ask them. With a survey that is succinct and to the point, you can tap into the mindset of your buyers and use that data to guide future marketing efforts.
New features or products may stem from customer surveys. Let your customers know that their input helps to guide the development process for your business.
As mentioned with review campaigns, be clear with your messaging on how customer feedback helps improve their experience with your business.
Thought Leadership
Hopefully your customers look to your brand for thought leadership in your particular industry. When new insights are delivered, innovative technologies are released, or events are held, make sure someone on your team is blogging about them. And don't be shy to share an opinion.
Your customers are probably already aware of whatever news you're going to highlight. What they really want is to know how your brand feels about the news.
As you develop a foundation of thought leadership, pull in outside resources as well. Feature other thought leaders in your industry to compare ideas and notes about issues and challenges your customers are researching.
Highlight Your Customers' Successes
Do you have great customers doing great things? Highlight their successes. Who doesn't like to be acknowledged for their successes? Shine the spotlight on others in an honest and genuine way.
The easiest way to do this is through social interactions with their posts. Comment, like, and share when appropriate. You'll see engagement and interactions on your own social media platforms increase in the process.
Another powerful approach is to create case studies that highlight your customers — what they do, who they are, what they stand for, and how your business has helped them achieve their goals.
Here's a success story about Parlor Skis published by HubSpot. Notice how the video focuses on specific pain points while highlighting what the business has accomplished in terms of sales and production.
Keep Delighting at Every Turn
Regardless of whether you're in marketing or sales, it's easy to focus on attracting the next lead or sale. Don't forget to stay focused on delighting existing customers! Your customers hold the power to influence others in the buyer's journey. Plus, retaining clients over the long haul provides a better return than dropping all of your marketing time and resources into the next lead-gen campaign.
We help businesses optimize their inbound efforts during every stage of the process. Need some extra help delighting your customers? Give us a shout!