Recruiting for a busy season seems like a daunting task, but companies who choose to do so, reap success and see ROI. While home service companies are seeing a boom in business, the problem they are facing is that they are understaffed when peak seasons begin. We often hear:
"I have more leads than I know what to do with, but I couldn't find employees to bring onto my team to handle more leads even if I wanted to."
So, how do we fix this major pain point home service companies are experiencing? Currently, businesses wanting to actively recruit should look into inbound marketing. You might be asking why? Replace inbound with a hiring process, and you get— inbound recruiting. This simple concept is delivering a significant impact throughout businesses wanting to take advantage of growth.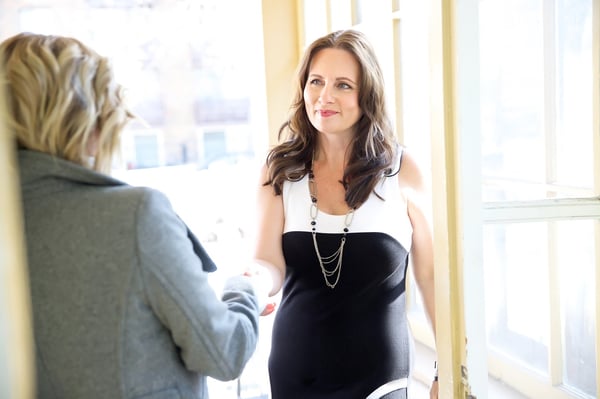 Just like that of inbound marketing tactics, inbound recruiting finds great candidates—and has them come to you. This tactic for hiring is a crucial aspect of searching for the right people while also giving companies more qualified candidates.
It's Time to Make Ideal Candidates Come to You
So how does inbound get ideal candidates to come to you? Be Findable.
Sounds pretty simple, but if your company is searchable in every single way you're one step ahead. Make sure you're promoting your brand and company on search engines and social channels. Those who seek out your company are able to find you and learn about what you do. While this part isn't complex, it does take time and effort. In today's digital world, this is also important for brand recognition.
"Companies used to be in control of the recruiting process, but now, over 75% of job seekers start their search on Google." —CareerBuilder, 2015
First up, create a company profile and highlight it on your site. Typically a company profile lives on an "About Us" page. Once you have that built, ensure the same information is relayed across social platforms and any site you have a company profile. Majority of people looking for jobs will begin their search via Google. So, if your potential candidates are seeking employment and don't find you, it's likely they won't apply for an open position—and you miss the opportunity for strong talent.
"If you don't have [a] company profile built and optimized for mobile and social media channels to showcase who you are and what are you standing for, top talent will definitely question whether your company is an attractive place to work."—Talentsquare
It's essential to note that having an online presence affects your sales and your hiring pipeline. There are two things you need to have for your presence to be noticed online:
Who you are
Why you do what you do
Express who you are as a company to find talent that wants what you want, and understands what you do.
Getting Applicants is Easy; Successful Recruiting Isn't
It's easy to get applicants but companies say they can't get qualified people within the few weeks that a position is open. This creates a big pain point, but what businesses don't realize is that they should be utilizing open job positions year-round. You'll receive more applications throughout the year, then you won't feel as if you are on crunch-time to find talent that fits with your company culture and goals in a short time period.
Once you have figured out how to get more applicants you're already one step ahead when it comes to recruiting successfully. Although it's true that successful recruiting isn't the easiest thing to do, there are ways to help ease the process. Here are five ways to improve recruiting and create a thriving environment for talent.
What Does Successful Recruiting Mean?
Utilize budgets appropriately, the key is using money wisely to attract people.

Shrink the size of the top of your funnel.

More candidates don't always equate to quality talent.

If the top of your job funnel is incredibly broad chances are you're finding talent, but not the quality you're ultimately searching to have.
Understand the changing needs of both the company and the potential employee whether it's who to hire, specific skill sets needed, and what is relevant.
Maximize time throughout the slow season to bring on qualified employees during the busy season.
Measure ROI from your new hires. Quality candidates will stick around, and good talent will want to return if they believe in the who and why, because they bring more value to the forefront of the business.
Why Utilize Inbound for Recruiting?
The inbound methodology for recruiting should attract quality candidates more efficiently and effectively. Connecting with passive and active people who are job hunting by engaging, converting, and delighting potential employees your business is sure to see growth and ROI. Plus, when using marketing strategies that align perfectly with recruiting steps companies are able to build lasting relationships with top-talent throughout the application process successfully.
"Inbound is actually a really great way to attract talent to your team." —Emily Hulstein, Business Development Representative at Denamico
Similar to strategies within marketing, recruiting the inbound way is not just about active candidates. Passive candidates are also important! It's crucial to note that these steps should not just be done online. Companies who use a multi-channel approach in both print and digital capture ideal recruitment leads.
There are a few things you should focus on while gathering ideal prospective employees. Inbound recruiting build trust through connections and relationships. By utilizing technology, social platforms, websites, and other multi-channels to an advantage, companies see metrics of who views career pages and inquiries via potential employment leads. Don't forget that commitment to your brand and creativity will get you far for prospective employees.
"Inbound recruiting is a way of finding and hiring top talent the way people find jobs today." —Hannah Fleishman, Inbound Recruiting Manager at HubSpot
HubSpot coined the term "inbound marketing" roughly a decade ago and their sense of marketing strategies has blow up over the years. Companies are continuously taking advantage of the inbound process with 4 stage steps to garner more leads effectively.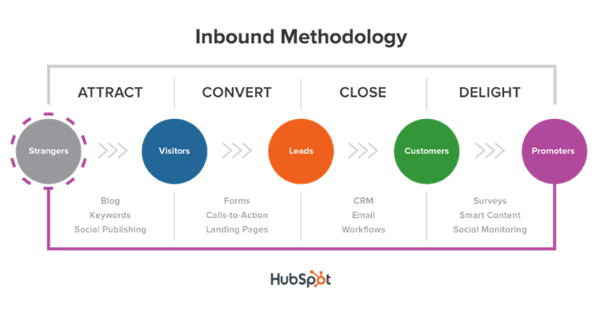 Just like that of inbound marketing, for inbound recruitment, all companies need to do is to correlate those four marketing steps above, with these four steps below: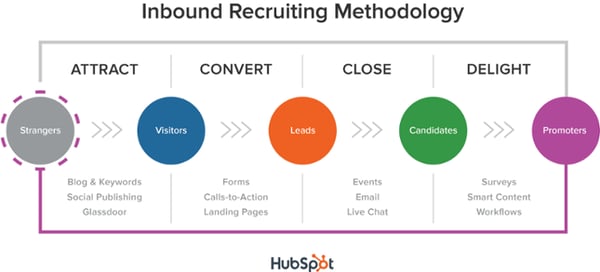 1. Attracting Job Seekers
More than ever before posting job descriptions are only a small piece of the hiring process. Today, those seeking careers will often look to Google, reviews from sites like Glassdoor.com, and recommendations from family and friends. If you're not on multiple digital channels, you'll lose out on an excellent way to market your company brand to potential candidates.
2. Converting Applicants
If candidates already know who you are and why you do what you do, while understanding the culture of your company, imagine how much easier it will be to find the right person to work for you? Tell your company story from the start, but ensure value is present. Prospective employees who see the value of what you have to offer and be more likely to apply. Highlight what you've got through great content whether it's perks, amenities, culture, etc., this will easily match a candidate to your company.
At Denamico, we use an Utterly Cool Lexicon to show what it's like working for our Denami-fab company.
3. Closing Candidates
Getting the ideal candidate is probably not going to happen the day you open up a job posting. Sadly, chances are a potential employee's first visit to your site, is not going to be the time they apply. Just like during the buying process, people search for recommendations and reviews, it's the same during job hunting. A potential candidate might view your career page once, but not apply that day. Nurturing relationships and staying in touch with those who do seek out information about applications is vital. Most of the time some of the top talents are not even looking for new work. So, how do you get passive candidates to think your company is the right one for them? Continue to nurture contacts through their decision-making process, by giving them added resources about how to apply.
Forrester Research states that it may take as many as eight brand touchpoint to influence the decision-making process. So, utilize how you communicate with prospects. Send information, thank you's, and anything else that engages a candidate through their decision.
4. Delighting a Successful Hire
Creating a top-notch candidate experience turns your prospective employees into promoters. Don't have a boring interview or application process—that will only make things worse. Take a refreshing approach and by doing so, you are going to be leaps and bounds ahead of the competition. Ask for feedback, recommendations, etc., or simply keep in touch with candidates who don't receive an offer. Plus, reap the rewards of having quality, top-talent!
Need Help Recruiting for the Busy Season?
Inbound marketing helps companies attract leads more efficiently and effectively through their website. Inbound recruiting does the same thing, but with those seeking to recruit and add more growth. At Denamico, we know that people are most likely to search for the solutions to their particular pain points, so addressing a connection through marketing and recruiting may help improve ROI for quality employees.
While we don't always suggest inbound recruiting, we understand that for home service companies preparing for the busy season, is critical for added development in the coming years. Overall don't forget that utilizing the Inbound Methodology with recruitment attracts active and passive candidates you are able to nurture, as well as find the employees who are a good fit for your business!
Need more information on how to fulfill your busy season with quality employment? Chat with us today, and we'll get you started on a path toward success.