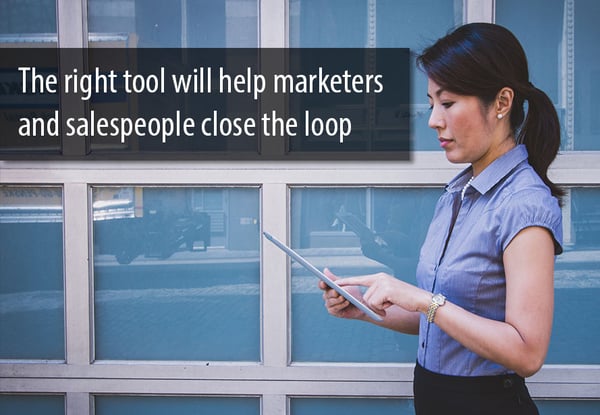 A TOOL FOR LEAD GENERATION
If you're reading this post, I presume you already know what marketing automation is, but just in case you want a refresher, check out What is Marketing Automation Anyway? An Explanation in Plain English. We're often asked about marketing automation software, mostly from marketing people. The salespeople we speak with are more interested in the results of marketing automation (getting more leads, faster), and less concerned about what tools are used to do it.
Before getting into any specific software recommendations, I need to make the point that marketing automation is merely a tool. Just like a fancy saw, a sewing machine, or a high-end video camera, you also need to have a plan, or strategy, of what to do with the tool, and have people who know how to operate it, in order for marketing automation to be worth the investment.
Once a marketing strategy has been developed, marketing automation helps execute the strategy in various ways. It helps automate certain processes like lead nurturing and sending thank you emails to leads who have downloaded something. And most importantly, it gives you all of your analytics in one place; for traffic, leads, blogging, landing pages, emails, and social.
---
IT'S NOT WHAT YOU THINK
Now if you've read any of our other content, you know Denamico is a HubSpot partner, meaning that we use HubSpot ourselves and organizations who hire us to help them with their lead generation, also use HubSpot. Obviously, I'm a little biased when it comes to HubSpot and I prefer to be transparent. So clearly, I am NOT going to tell you that HubSpot is the best marketing automation software for a small business. Or a medium sized business. Others have already done that for me.
Specifically G2 Crowd, Capterra, and TrustRadius all have comparisons on the top marketing automation platforms, including Marketo, Pardot, Eloqua and Infusionsoft. And they all list HubSpot at the top.
What I thought would be more helpful for you is to write about why so many people love HubSpot, and why it works well for a small business.
1. They Practice What They Preach
Who in marketing has NOT read the HubSpot blog? I don't see any hands in the air. Quite simply, their content is second to none. HubSpot co-founders Brian Halligan and Dharmesh Shah coined the phrase "Inbound Marketing" and they lead by example.
2. It's Affordable
There are three pricing tiers for HubSpot software, Basic, Pro and Enterprise. The Basic is pretty limited so all of our clients use the Pro or Enterprise version. The differences with the Enterprise version are that you are allowed more contacts in your database, you have the ability to do A/B testing, predictive lead scoring, and there are more reports available than in Pro.
Most of our clients have sufficient functionality with the Pro version, which starts at $800/mo for up to 1000 contacts. Once you go over 1000 contacts, you pay $50 per every additional 100 contacts.
3. It's Easy to Learn and Their Training is Top-Notch
In fact, if you do the training from HubSpot Academy, any other software training is just going to be 'meh. Our team recently did some online training for our project management software and we were frustrated that the videos were grainy, the audio was not great or consistent, and there wasn't a very large library of topics. HubSpot Academy sets the bar high.
Their Inbound training and certification is free, and you don't even need to be a HubSpot customer, so it's a perfect way to learn more about the methodology before paying a dime. There are takeways anyone can implement, regardless of whether you have the software.
4. They Have an Integrated CRM and it's FREE
The great thing about the technology behind marketing automation is that it allows you to 'close the loop', or in other words, get real data on the traffic that comes to your website, converts to a lead, and hopefully becomes a customer. In order to complete this loop, you need to have Customer Relationship Management, or a CRM system.
In most organizations, it's the salespeople who own the CRM and they are the ones responsible for entering prospect and customer data, and keeping it updated. Have you met any salespeople who like entering data?
HubSpot's CRM pulls most of the data from the marketing automation software. Data such as the person's company, website URL, email, industry, phone number, the number of employees, the annual revenue, and more. None of that needs to be manually entered because the software populates those fields for you.
The software can integrate with other CRMs such as Salesforce, Pipedrive, etc, but when the CRM is already integrated, there's no need to migrate data, no integrations to manage or upgrade, and the data is updated in real time.
And as mentioned, it's free. Gratis. Even if you don't use anything else from HubSpot, you can use their CRM at no charge.

5. It's Not Just About Marketing
As we discussed earlier, it's about leads. Qualified leads. So in addition to the marketing automation software, HubSpot has a suite of other tools specifically for sales.
The best, most qualified, leads are inbound leads. They're further through the sales funnel, they're actively seeking us out, and they close faster. But where do we go for leads, if we don't yet have enough inbound leads?
Earlier this year, HubSpot Academy released its Inbound Sales Training, which explains why and how to prioritize active buyers over passive buyers when prospecting. The training takes you through the 4 stages of the inbound sales process: Identify, Connect, Explore and Advise. I wrote about How to Improve Your Connect Rate Through Email as a result of doing that training.
Many people initially believe that HubSpot is just for marketing, but the reality is that the sales team will use it just as much, and value it even more.
6. Strong Ecosystem
Unlike some other marketing automation platforms, where it can be difficult to find an expert, you will not struggle to find help or support from the HubSpot community. There are HubSpot User Groups (HUGs), in cities around the world, which host quarterly events that are free to attend. The topics vary and attendees are HubSpot customers and agencies.
There are a growing number of podcasts specifically for HubSpot users to gain an even deeper knowledge, including one of our personal favorites, the Hubcast, and HubSpot's own The Growth Show.
Other free sources of knowledge include the many (many, many) blog articles, webinars and videos that are produced by HubSpot partner agencies all over the world, and in many different niche industries.
---
Developing a Strategy
The biggest question we try to help our clients answer is not about which marketing automation software to use, but what is the strategy they need in order to achieve their goals. The tool is important, but as our friend, Carole Mahoney, says "a fool with a tool is still a fool."
If you're wondering whether marketing automation would help you in executing your strategy, or if you need assistance in developing a strategy, schedule a call and we'd love to see if we can help.