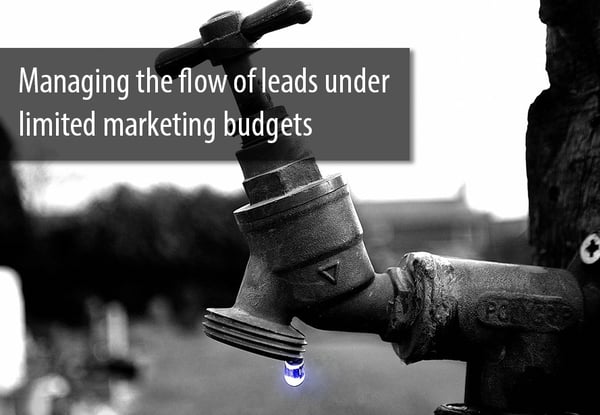 It's a question I often hear from marketing teams and business owners in the residential building space who are looking to get the most bang for their buck. In many cases, their marketing budgets and available resources are limited -- which adds pressure to maximize returns on lead generation programs.
Traditional methods of marketing (referred to as outbound marketing in our line of work) typically consist of paid advertisements, direct mail, telemarketing, and trade show exhibits, among other tactics. You may be implementing a combination of these methods, or pouring your entire budget into one specific channel, but once you end a campaign, the flow of leads stops. The tap is shut until the next paid campaign.
Inbound marketing (also known as content, website, digital, or online marketing) is a lead generating system that compounds over time using your website, educational content, marketing automation, social media reach, and search engine optimization. Rather than just spending money to generate a finite number of leads over a predetermined period of time, savvy home builders are also implementing inbound strategies to populate their marketing and sales funnels without time constraints. The tap remains open as you develop more content and new campaigns.
We'll be the first to admit that if you need leads fast, outbound tactics will get you the quickest results -- but there is a price. Inbound marketing, on the other hand, takes a bit of time to see returns, but it's a valuable option for home builders and remodelers for two main reasons:
Today's home buyers are doing more and more of their initial research online, and
Inbound leads cost 62% less on average than outbound leads, but produce three times as many leads per dollar spent, according to HubSpot's most recent State of Inbound Report.
Inbound marketing campaigns return more value than traditional paid tactics because content generated through inbound has the potential to attract visitors and shares long after you have moved on to your next project.
---
Many businesses -- especially those with limited marketing budgets -- have already shifted their focus to inbound marketing
The following chart from the report shows the popularity of inbound marketing among smaller businesses with lower marketing spend. Organizations that spend less than $100,000 on marketing annually are four times more likely to practice inbound than outbound.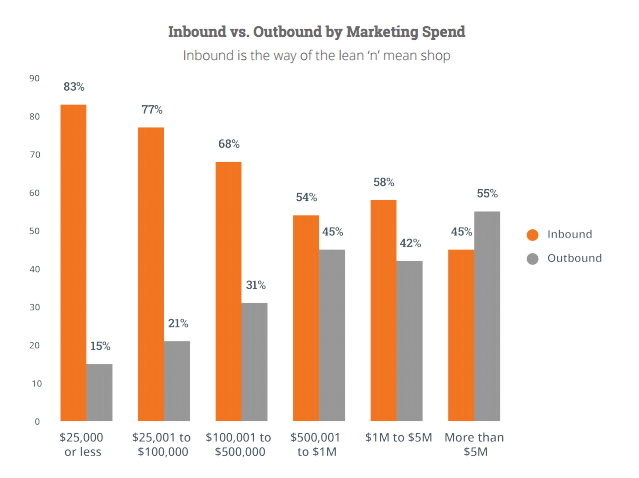 What's interesting, however, is that regardless of budget, companies large and small all reported higher ROI from inbound marketing campaigns over traditional marketing, up to three times the returns.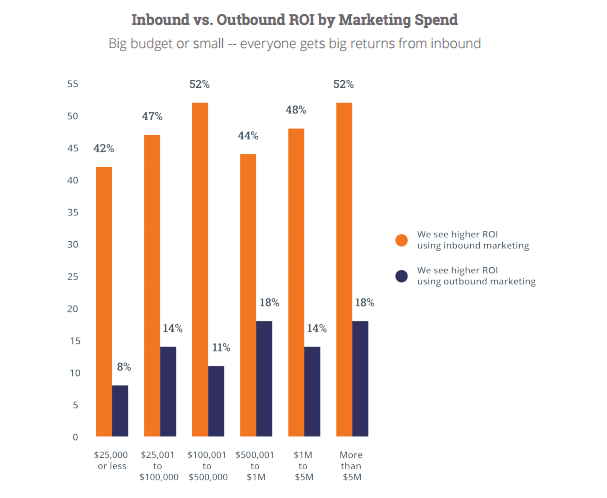 ---
So, is inbound the most cost-effective way to generate leads?
For many businesses the answer has been yes, but I hesitate to suggest that inbound marketing alone is the only option. To be truly cost-effective, lead generation programs need to be tailored to your needs and goals, both immediate and long term. While we rely on inbound marketing to produce a strategic blueprint for home builders and remodelers, we also work with our clients to incorporate paid digital ads and even outbound tactics to jumpstart inbound campaigns that will produce the most efficient and cost-effective returns immediately, and into the future.
The key is to track and measure all of your marketing campaigns. As a final point of emphasis, consider the following takeaways from the report highlighting the importance of monitoring your company's marketing efforts:
Proven marketing ROI unlocks budget. But you have to be tracking ROI in the first place, which not everyone is doing.

Leading marketers recognize that inbound is a long game. Both past success and past failure with inbound correlates with an inbound marketing budget increase.

Inbound is the preferred marketing strategy regardless of company type. B2B, B2C, nonprofit -- everyone's implementing inbound tactics.

Inbound campaigns achieve higher ROI than outbound. This holds true across different company sizes and budgets.
---
Still wondering if inbound marketing is right for your business? Contact us for a no-obligation consultation.