You're a bright, savvy marketer, so you've probably started creating a little content on your website. You know that blog posts, videos, webinars and other content are win-wins for your business - they provide value to your prospects and customers while generating traffic and leads for you.
If you're reading this post, you've probably found some stellar ways to use multiple pieces of content to create targeted campaigns for driving traffic, leads, and sales. Yet, with so many details and ideas to consider, we thought you could use a checklist with 5 simple ways to bring your newest campaign to the next level.
1. Get clear about your target audience
It's important to have a clear vision when approaching any task, but when you're developing a marketing campaign, it's critical that all parties involved understand your target audience. Who is this campaign for and what are you trying to get them to do? With your target audience as your guiding light, your team will adjust their perspective and create better, more personalized assets.
A great way to identify and understand your target audience is to create buyer personas. These profiles represent each category of your ideal customers.
For example, a company selling a B2B marketing app may have several different personas or segments:
1. Main Users - Early-mid level marketing professionals who influence initial purchasing and are especially important for retention.
2. Decision Makers - Senior-level marketing managers who make all buying decisions and supervise use of application.
3. Tech Implementers - IT professionals who handle implementation and support for tech products - their buy-in may be required for sale.
You can see why you'd want to market differently to each of these types of buyers. By understanding who they are, what they do, where they live online, and what they care about, your team can create campaigns that actually speak to the right audience and inspire them to take action.
2. Set data-driven goals
The best way to make sure a campaign is successful is to set data-driven, SMART goals from the outset, regularly monitor progress toward those goals, and modify tactics with agility until goals are reached.
Many marketers make the mistake of not setting numbers-based goals because they're executing new tactics and aren't sure how to make sure their projections are realistic. It is difficult to set realistic goals without past benchmarks, but you can start by looking at the end results you want to achieve and working backward.
If we're sticking with the B2B marketing app example, let's say the goal is to acquire 5 new customers each month.
The marketing funnel looks like this: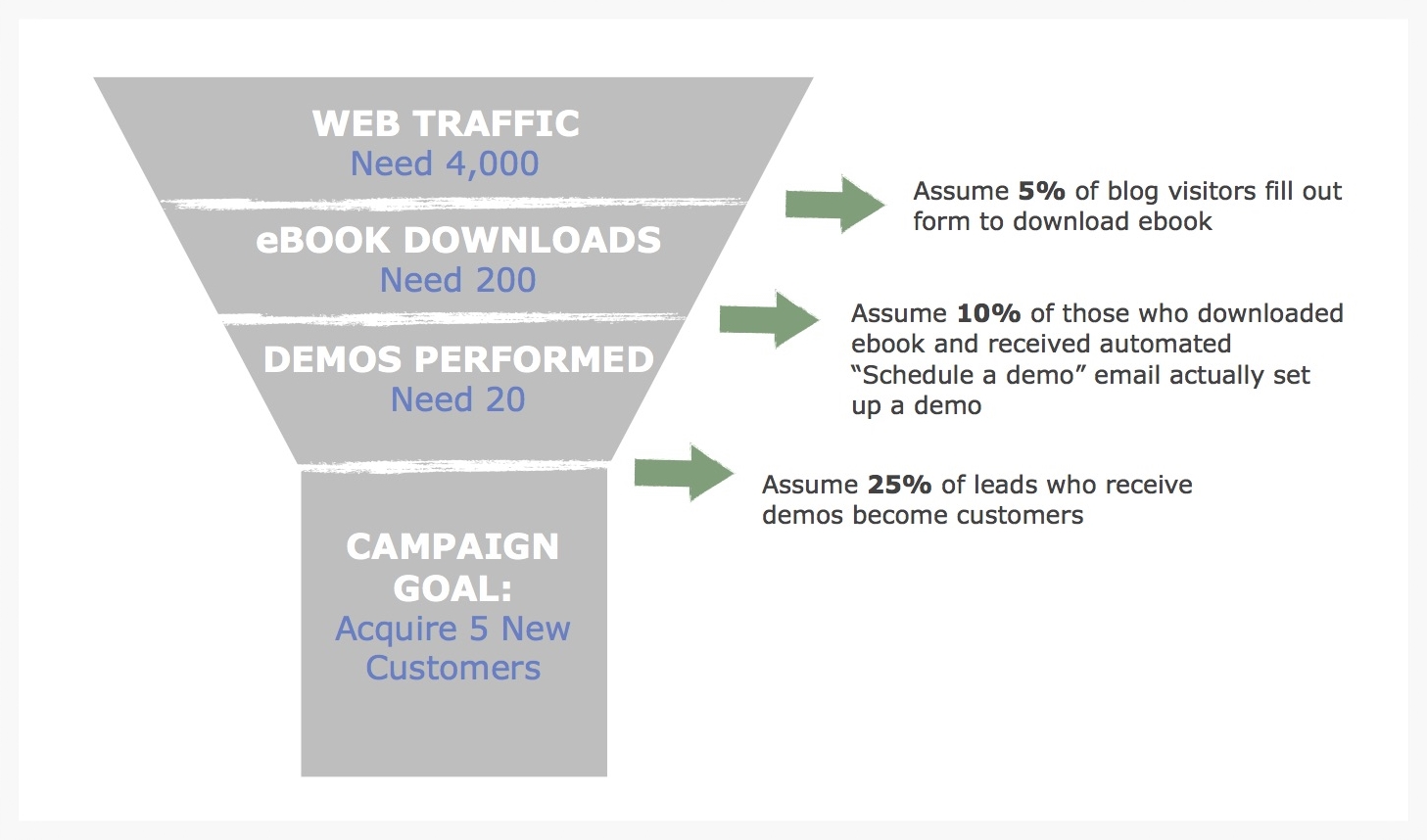 To explain the funnel a bit further, we can work backward from our ultimate goal of acquiring 5 new customers by estimating our conversion rate at each part of the funnel. So:
If we assume our sales team closes deals at a rate of 25%, we need 20 demos scheduled in order to close 5
If we assume 10% of people who download our ebook will schedule a demo, we need to generate 200 leads via the ebook download
If we assume 5% of people who visit our blog will click our CTA and download our ebook, we need 4,000 blog visitors to get 200 ebook downloads
If we use these benchmarks as a starting point, continuously monitor progress, and tweak tactics to increase projected conversion percentages, we'll be on our way to exceeding the 5 customers per month goal and will eventually have more concrete numbers for setting future goals.
Data-driven campaign goals help marketers ensure their campaigns generate real results (# qualified leads, # customers, revenue $, etc.) and objectively demonstrate marketing value across the larger organization.
3. Include long-tail keywords in addition to shorter keywords
As you probably already know, the keywords you use on your website are critical for helping people find you via search. When thinking through their website & blog search engine optimization (SEO) strategy, most marketers focus on short, 1-2 word phrases.
For example, if you're a photography studio trying to establish SEO presence, you might pick keywords like:
Wedding Photography
Bridal Photography
Infant Photos
Baby Photos
Engagement Session
Senior Photos
Photography Studio in Minneapolis
Though these do demonstrate what your business does and will probably be easy to weave into your website copy, it's going to be very difficult to outrank larger, more established companies and get found with these.
Your better bet is to figure out how you're different from the average photography studio and create long-tail keywords that demonstrate that value. This way, you may not rank in searches for photography in general, but you can work your way to the top of the list in searches for the specific things you do really well.
To do this, you need to get very clear about your mission and your niche in the larger market. A lot of business owners and marketers are resistant to this because they don't want to exclude potential clients, but in this crowded economy, very few small-medium businesses can make it as generalists. You've got to be specific.
Given the recent legalization of same-sex marriage, you go after the emerging number of gay couples searching for photographers.
Effective long-tail keywords might look like this:
LGBT Wedding Photographers in Minneapolis
Gay Wedding Photographer in Twin Cities
Gay Engagement Photos Minneapolis
Wedding Photography Studio for Gay Marriage
Once you identify your niche area, figure out what long keyword phrases represent both what you do and what people are searching for. Then, look for ways to integrate those phrases in your site's page titles and subtitles, your blog copy, and your meta descriptions. The more places you can place these phrases, the more likely you'll rank and get found.
By finding and adding these long-tail keywords, you'll not only outrank the competition who are only using short-tail, general keywords because their services are more general, but you'll also attract more qualified visitors and close more deals.
4. Track URLs so you can understand where traffic is coming from
This one's pretty simple. When you share a blog post or landing page, be sure to use a tracked URL. This way, you can track which distribution channels are attracting the most traffic to your site and which ones convert the best.
Once you understand which sources are generating the most traffic and leads, you can focus your efforts there and minimize outreach through other channels.
Though "Tracking URLs" might sound pretty technical, it's actually really easy to do. Most marketing automation tools like HubSpot automatically track URLs for you.
For example, with HubSpot, you create your web content right from within the platform, so it automatically generates tracking code when you use their social publishing platform to amplify content across social channels. It also automatically tracks organic search traffic, site referrals, email marketing clicks, and manually entered url traffic. You can go to Reports>Sources from your main dashboard to see a breakdown of which channels drove the most traffic and conversions.
If you don't use a marketing automation tool, don't worry, it's still pretty easy to get this data. You can use Google's free link building tool as part of Google Analytics. To use this tool, you just have to enter the page you're trying to track and some other basic information. Google will generate a tracked link, which you should use any time you share your blog or web pages across the web. Source traffic data collected can then be found inside Google Analytics' Campaign Tool.
Pro-tip: Tracking source traffic is not only an important aspect of digital marketing campaigns, but can be a smart way to track the success of print campaigns as well. If you're sending or distributing direct mail, drive readers to a tracked URL so you can tell later on how many people "converted" by visiting the URL after reading the print piece.
5. Report on results
Last but not least...after you've set goals and executed your campaign, check to see how you measured up. Even better, put your goal numbers in a place where you can see them and check progress at regular intervals.
If striving toward monthly goals, check how you're doing each week and identify small changes to amplify results for the next week.
Find the right interval of time where you have enough data to make an informed decision, but where it's not too late to make changes in order to reach the ultimate goal.
The most enjoyable part of all of this is when you've worked hard to optimize your campaign and can start using this data to merchandise your efforts. As I mentioned earlier in this post, setting data-driven goals and reporting on them in an objective way will help you create smarter marketing campaigns. When these smart campaigns lead you to continuously exceed pre-set goals, this data will prove you're ready for your next promotion.