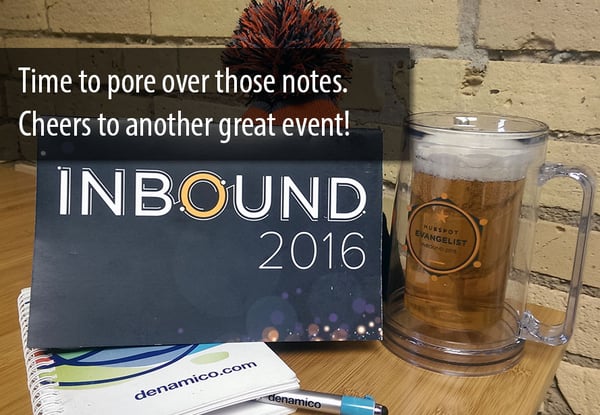 In my experience, HubSpot continues to focus on three major themes at INBOUND each and every year. INBOUND16, held last week, was no exception.
As business leaders, sales professionals, and marketers, we should all be doing the following:
Focus on PEOPLE. And not only your prospects and customers. To achieve success, you also need to invest in yourself and your employees.
Focus on GROWTH. Find new ways for your teams to achieve growth for your business. Strategy, leadership, and a keen eye on trends will foster success.
Focus on AUTOMATION. Sales and marketing teams now have the power to leverage innovative technologies to reach more people, qualify more leads, close more deals, and report on the process in less time. Streamline the process using automation.
The following list includes notes from our INBOUND16 attendees.
---
top 15 takeaways from #INBOUND16
Tips On CRM:
1. "Every person in your database has value; you need to determine what that value is." - Mike Volpe, former HubSpot CMO.
Optimize your CRM and implement lead scoring to help prioritize the contacts with the most value and get rid of the ones that are of no value.
2. Clean house!
Sometimes it's important to just purge your inactive contacts and subscribers. Don't be a hoarder; it skews your engagement and conversion rates, and can add extra cost to your CRM software. Send a breakup email as a last chance to get them engaged, then just let go. Not everyone is a good fit.
Tips on Search:
3. "Search is experiencing a shift from terms to topics." - Christopher O'Donnell, HubSpot VP of Product.
Companies/people that are creating content need to own a percentage of a topic cluster by writing the best content possible for it. HubSpot's new content strategy tool helps to identify subtopics to focus on writing for humans instead of machines.
4. What does the little lightning bolt next to an article in search results mean?
Google AMP (Accelerated Mobile Pages) is a format that makes content load faster for mobile. It 'just works' for all new content you create in HubSpot so that it will be insanely fast on mobile devices.
Tips on Strategy:
5. "Always be helping." - Brian Halligan, HubSpot Founder and CEO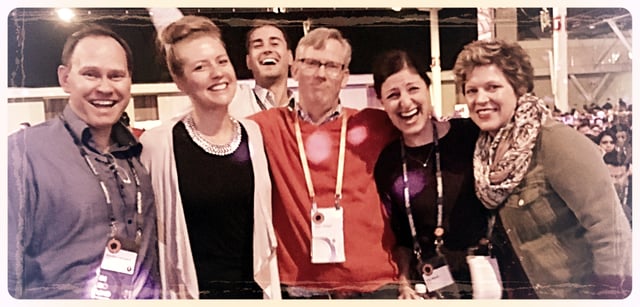 Halligan believes that no matter what your role is (sales person, business owner, marketer, etc.), helping the customer (or prospect) will make you more successful than Alec Baldwin's "Always be closing" mantra from Glengarry Glen Ross.
6. Strategy Before Tactics
Marketing tends to do 10% strategy, 90% tactics -- but it should be 50/50. We go straight to the tactics because they're more fun. It's fun to make content and build things. but content is the roof of the house. First, you need a foundation (company goal and team buy-in), then the walls (strategy), and FINALLY the roof (content and tactics).
7. Data-driven Customer Journey
Everyone talks about the 'buyers journey' and the damn funnel, but really there are two stages: (1) BUYERS journey and (2) the OWNERS journey toward reaching the buyer and delighting them to make recommendations for you.
The Importance of:
8. Video
We and our clients need to use it more often. In general, people strongly prefer watching video over reading.
9. Brand for EVERY company
A strong brand allows a company to own a unique space in the prospective customer's mind.
10. Experimentation
We live in an era of constant innovation and change and although we don't want to try every new thing that comes along, we do need to have testing be part of our regular process.
Tips on Leadership:
11. Do you have grit?
You have to have grit to be happy and successful, and to achieve excellence. Find something you have passion for. If you want to quit, fine, but don't quit because you've had a bad day or because you're losing. Quit because it's not your passion or interest or goal.
12. Women & Leadership
Identify your own authentic style -- don't follow masculine standards that so many businesses have. Flex and practice your style and eliminate words that hold women back through self-sabotage. Phrases like, "I'm sorry..." and "I'm just..." need to go.
13. Get Sales to be raving fans of Marketing!
Ever ask a sales person to give you blog ideas and they say they don't have time? That translates to "I don't see the importance in what you're trying to do." If you get Sales on board, and they understand HOW this will directly affect their job, they will become raving fans! If a prospect reads 30 or more pages they are 80% more likely to buy.
The future is now:
14. The future of web design is here.
Growth Driven Design is a practice that takes a website with core pages that are created fast, then continually added onto based on demand and data-driven adjustments (as opposed to getting the beast fully complete and not touching it for two years).
15. Facebook Live
DO IT. Ride the wave early. Facebook Ads -- DO IT. It's way cheap in comparison to other paid advertising. And it's not just for B2C. Take advantage before the big brands figure it out and prices skyrocket.
---
Now what? Well, it's time to get back to the rhythm of agency life. But taking some time away to chat sales and marketing, expand our playbook, and bring back actionable tips was certainly rewarding.
See you all in Boston next year!
---